Almost a quarter of the value of UK farmgate milk has been wiped out since April, according to data from DairyCo, with little sign of a recovery in the sector expected in the new year.

The average minimum contract milk price fell by 22.9% between April and December, said the milk producer levy body, from a high of 32.1 pence per litre (ppl) in the spring to just 23.9ppl this month.
And it seems average prices will continue to fall in 2015, with Müller Wiseman this week announcing a cut to its price from 10 January, and First Milk also saying it would cut prices - one of 16 individual price cuts announced over the past week.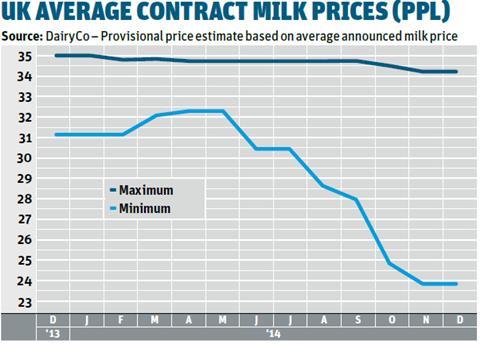 First Milk chairman Jim Paice said the producer was "working on a number of measures" to help it manage "future volatility and better align milk production and demand." But unless an unexpected event - such as a period of severe weather - affected production, supply would continue to dwarf demand across the sector for the foreseeable future, warned DairyCo senior market analyst Luke Crossman.
"The downward pressure on milk prices is unlikely to change in the short term as production is significantly up on the previous year," he said. About 8 billion litres more milk was available in 2014 from the EU, US and New Zealand.
The Russian trade embargo on Western foods was a further factor suppressing farmgate prices, added Crossman.
The European Commission announced a €28m support package last month for milk producers in the Baltic States after average farmgate prices fell to 20.5ppl in Estonia, and below 20ppl in Latvia and Lithuania.
The decline in farmgate milk prices comes as UK retailers continue to compete aggressively on retail milk prices, with most of the major mults offering four pints of standard own-label milk for £1.