Demand for egg white liquid has risen due to its popularity as a healthy ingredient, which has led to increased numbers of eggs being processed to meet demand. This has had an impact on the prices of shell eggs for processing and egg white liquid, which have both risen with demand; and egg yolk powder, which has fallen slightly due to increased production.
Increased production and reduced demand continue to take their toll on prices across the dairy market. EU prices for whole milk powder and skimmed milk powder are down sharply month on month, and almost 40% year on year.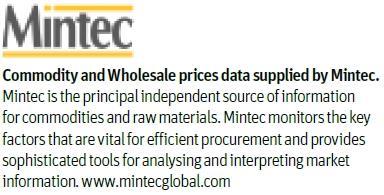 UK butter prices are also down month on month, and almost a third year on year. Butter prices have suffered from higher production volumes.
Increased production - a result of investment in dairy herds - has also pushed whey powder and Cheddar cheese prices downwards.