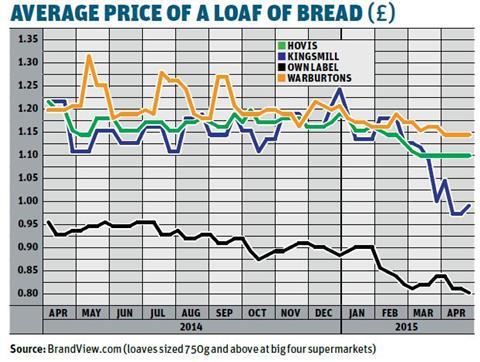 Supermarket price wars have sliced 15p off the average price of a loaf of bread in the past 12 months.

Shoppers are currently paying, on average, 13.3% less than they were a year ago for a large (800g or 750g) loaf at the big four supermarkets. Loaves selling at a typical promotional price of £1.14 in the week ending 30 April 2014 were just 99p last week [BrandView.com w/e 29 April 2015].

It's a situation that has prompted some observers to suggest the grocery industry is on a "race to the bottom" when it comes to pricing. And it has contributed to the value of the bread market falling by more than £100m in the past year.

"What I'm seeing when I walk into the small store format of any major multiple is a pricing hierarchy shot to pieces and widespread markdowns on anything with a retail price of more than £1," one supplier told The Grocer (see Focus on Bread p45)

The cuts - which have pushed branded 800g loaves as low as 75p - have accelerated since January, when many retailers launched new rounds of discounts across their grocery ranges.

Britain's biggest bread brand, Warburtons, which typically sells at a premium to its rivals, has fared best of the three major players - with its 800g loaves dropping 5% on average to £1.14. Aldi, Tesco and Waitrose dropped some Warbies 800g loaves to 95p in January and have kept them at that level.

Hovis, meanwhile, has seen many supermarkets cut a range of its standard large loaves to between 75p and 80p. This has resulted in the average price of a Hovis loaf dropping 10.7% year on year to £1.09.

Hardest hit of the big three has been Kingsmill, with its large loaves priced 20% lower on average last week than in April 2014. With a 14.3% drop in volume sales of Kingsmill bread, the lower prices have contributed to Kingsmill bread sales crashing £75m in the past year [IRI 52 w/e 28 March 2015].

Own-label bread has also suffered, and average prices for large loaves have dropped 18.3% from 93p a year ago to 76p. Recent months have bought sharp cuts in the cost of key own-label loaves, with Sainsbury's slashing several 800g products from 75p to 55p. Other retailers have followed suit, with Aldi and Lidl each dropping 800g sliced white loaves to 55p - and Tesco doing the same with a raft of its 800g own-label loaves in April.

In contrast with bread, average prices of many other baked products have risen. At the big four, the average unit price of bagels has risen from £1.35 last April to £1.36 this year; crumpets from 88p to 93p; and bread rolls from £1.10 to £1.18. The increases are reflected in the performance of the non-bread baked category, up 0.7% by value on volume sales up 0.5% [IRI 52w/e 28 March 2015].