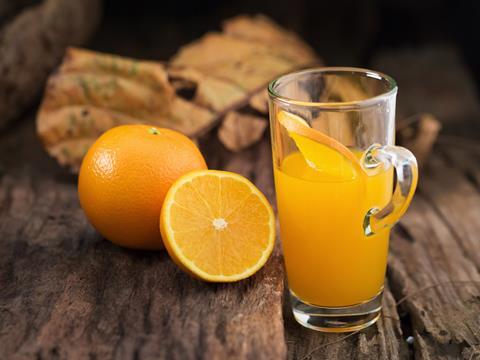 Suppliers should brace themselves for at least another six months of high orange juice prices, according to Informa Agribusiness Intelligence.

Crop disease in Florida and Brazil, two of the biggest producers of orange juice, has led to the price of frozen concentrated orange juice rising from $2,200 a tonne to $3,000 a tonne in Europe, its latest market report warns.

This is set to hit supply chains this year, with a "marked increase in prices across the board" expected as the new season's orange juice comes into the supply chain.

The Brazilian orange harvest is forecast to be larger this season, which should weaken prices for frozen concentrate later in the year. However, "if Brazilian suppliers instead look to replenish their inventory, prices could remain high for the next few years", according to the report.

In contrast, apple juice prices are set to remain relatively low for the "foreseeable future" on the back of strong production in China and Poland.

At $1,100 per tonne, the industrial price of apple juice is currently about a third of the price of orange juice. While demand could increase this year as orange juice prices rise, the "abundance of supply" should keep prices in check throughout 2017.

"Orange juice continues to be a woeful market where demand is declining as prices are increasing, but it will be interesting to see the impact of the Brazilian harvest in the new season," says Neil Murray, analyst at Informa Agribusiness. "Apple juice offers a welcome spell of constancy in the fruit juice market, as prices remain low through steady supply from China and Poland."

Pineapple Juice Concentrate (PJC) prices are also low following a collapse in EU demand last year after a sustained period of high prices.