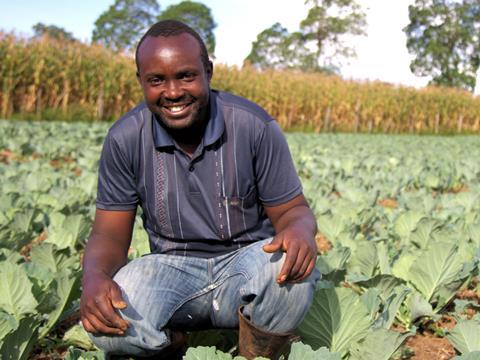 With his cabbages rotting in the searing Kenyan heat, Joseph Kaunda didn't know how he'd start again. If it wasn't strict quality controls leaving his vegetables rejected before they left the field, it was buyers offering a pittance for the produce.

"When things rot I get very discouraged," he says. "You spend a lot of money buying seedlings and tilling the farm and you do the calculations on how much money you'll make. When you do not do well it takes a while to get the capital to start again."

But in the past 12 months that's changed. Since working with Farm Africa's Growing Futures project, Kaunda has watched both yields and profit on his land in north west Kenya bloom by 65%, leaving new cash to invest in extra equipment to take his wares (and others) direct to the region's markets.

He is one of 2,300 people to have benefited from the project rolled out in the county of Kitale, which aims to equip young Kenyans with the skills needed for a career in agriculture or horticulture. Currently, 40% of young people are unemployed in the country, the highest level in East Africa. And the working age population is set to double to an estimated 39 million by 2030.

"Right now 78% of the population in Kenya are 18-35 and these youth are likely unemployed, looking for employment in the urban areas," says project co-ordinator Mary Nyale. "But without the right training or certification they end up being labourers or similar. Meanwhile there's a big demand in agriculture, where the average age of a farmer is 60."

Watching parents and grandparents in agriculture battle low yields and tiny profits, there's little temptation for young people to bring that average down. Those that do face a "cycle of low input, low output commercial agriculture with limited access to land, equipment and transport," says Farm Africa.

But that's where Growing Futures comes in. Its mentors provide training in everything from meeting buyer demands on specification, to securing investment to the "personability" needed to pass on their learnings.

Project participants also undergo rigorous training in financial management, and compiling a business plan. Some also work towards their Global GAP certification to be able to export vegetables.

And it's already paying off, with the current group of 400 Kenyans already selling their first crops, achieving profits of 62% for cabbages and 50% for French beans.
With the extra cash she's making from her small crop of beans, single mother Selly Chelangat now plans to save enough to start her own business, and ultimately send her son to university. And for Beatrice Wakwabubi, the 0.2 acres of land she now rents to farm cabbage and beans has boosted her income by 40% and provided her with a new social network. "Working on your own can be very hard and you feel lonely," she says. "As a group we can assist each other. We talk and share ideas when we are farming together."

The project isn't without its challenges, adds Nyale. The availability of land can be scarce, access to capital remains an obstacle, and "uncontrollable" and "highly erratic" weather patterns can see crops destroyed.
But she remains optimistic the training and mentorship provided by Farm Africa can lead to "successful, profitable horticultural enterprises" all over the country, with nearby counties already expressing interest.

And the Department for International Development is set to scale up those plans. From now to 14 January 2018, all donations to Growing Futures will be doubled by government through its Aid Match scheme.
"The money raised will help farmers - half of whom are women - to develop agriculture skills and improve access to markets, so they can grow more crops, increase incomes and better support their families," says international development security Priti Patel. To donate, head to farmafrica.org/GrowingFutures.