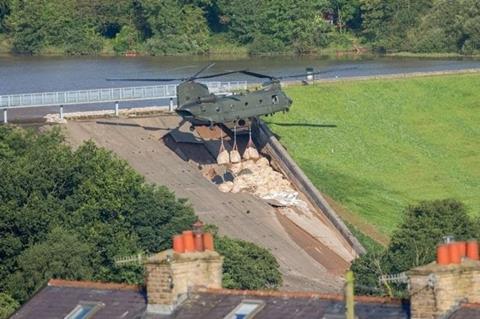 Derbyshire-based wholesale bakery Buxton Pudding Co, which counts Harvey Nichols among its clients, was forced to halt production and abandon its premises after the partial collapse of a local dam.
The company was evacuated on 1 August after parts of the Whaley Bridge dam wall collapsed, with water at the Toddbrook Reservoir soaring to a "critical level".
Since it produces on a weekly basis, the craft baker had been able to send out for delivery about 50% of its orders by the day of the evacuation, with the remaining products dispatched over the weekend.
It now expects to be able to re-enter its premises by Thursday, with the incident resulting in an £8k financial hit due to a week's worth of production being lost.
"We are a small business, but the incident has had a big impact on us. It hit us quite hard," co-founder Dominic McCall told The Grocer.
"As things stand at the moment our understanding is that if we can get back in towards the end of the week we would have lost a week of production."
The company, which supplies its cakes and desserts nationally to Harvey Nichols as well as independent delis and farm shops, said its customers had been "very understanding" of the situation.
McCall said he was also "grateful" to the police for having been "really good" at updating them on any developments.
"They have been really honest, which I think is all they can do in this unprecedented situation," he added.
Firefighters and engineers are continuing to pump water out of the reservoir. It would take "at least" until Wednesday to conclude the operations, according to a video tweet from the Derbyshire Fire & Rescue Service.