The B Corp movement – certifying businesses that balance profit with purpose – is taking hold in the UK. And food and drink brands are proving enthusiastic adopters. Here's how
When it first landed in the UK in 2015, few people knew what a B Corp was, let alone the purpose of the scheme. Now, though, the movement is starting to gain some serious traction.

Last October, B Lab - the social enterprise that certifies B Corp brands - held an event in London that was expected to attract 300 delegates. The number turned out to be closer to 600. Around a third of the 270-plus B Corps in the UK received certification in the past seven months. Interest has reached such a level that a backlog of brands are awaiting accreditation.

Among its swelling ranks are a growing number from the UK food and drink sector - from frozen food retailer Cook (one of the first B Corps in the UK) to babyfood brand Ella's Kitchen. Around 40 are now accredited, with more in the pipeline.

So, what is the benefit for companies? How much does it cost? And how is this translating in food and drink?

The growing interest in B Corps is, of course, all part of a wider trend. Because it has never been more important to demonstrate you are doing business ethically.

Take climate change. It's swiftly grabbing the attention of financial heavyweights as well as eco-warriors. Last summer, the governor of the Bank of England Mark Carney warned "companies that don't adapt [their approach] will go bankrupt without question". As the Greta Thunberg effect sweeps the globe, businesses must be seen to be doing their bit.

As Cook CEO Rosie Brown says: "If you don't address it, you will go out of business by 2025-2030. Something has got to change because big business as usual isn't working."

B Corp isn't just about the climate emergency, though. Consumers are demanding businesses act conscientiously across all areas of their operation: treating workers fairly, sourcing sustainably and considering their impact on wider society. As Fairtrade CEO Michael Gidney puts it: "Making a fast buck is no longer a valid way of trading."

Companies are taking note. In a survey of 50 business leaders published last month by Neighbourly, 85% agreed that their organisation would prioritise long-term social impact over short-term profit.
"Everyone is waking up to the climate crisis. It's not going away and if your business doesn't address it, it will go out of business by 2025-2030"
This is the exact ethos behind the B Corp movement. "Business has a responsibility to act and to understand its impact," says B Lab head of community Kate Sandle.

Of course, it's not the only accreditation scheme looking to inspire that kind of change. But it does aim to be the most stringent. Accreditation is only for those that meet the "highest standards of verified social and environmental performance, public transparency, and legal accountability to balance profit and purpose". And it takes up to two years.

Lily's Kitchen founder Henrietta Morrison can testify to the levels of scrutiny. Her petfood brand has been B Corp-certified since 2015, and Morrison says there are "incredibly high standards". Not only is it about working towards the necessary goals for initial accreditation, it's also about "ensuring businesses stick to them". She believes "that's the only way we can truly win people's trust".

To guarantee those high standards, B Lab puts companies through their paces at accreditation stage. Businesses have to complete an initial online assessment, consisting of 150 scored questions across five areas: governance, workers, community, environment and customers. Example questions include: Are the majority of your employees paid on a fixed salary or a daily or hourly wage? Does your product/service address a social or economic problem for or through your customers? And does your company monitor, record, or report its energy usage? The answers are used to create a score out of 200, and companies need a minimum of 80 to proceed.
Cost
The process is highly individual. Assessment is tailored to each company based on its size and industry. Even the annual certification fee is variable, ranging from £500 to £50k depending on the size of the business (a company with annual sales of £0-£149k would have to pay £500, while a £20m-£49.9m business would have to pay £10k). Then, once the company has been accredited, it must change its articles of association to say it will no longer operate based on shareholder primacy. This, says Ella's Kitchen CEO Mark Cuddigan, is "a big deal". That searching assessment must be repeated every three years to maintain accreditation, and companies are expected to improve their score each time.

For many members, this thorough process is a benefit rather than a drawback. At a time when greenwashing is rife - and everyone is claiming some form of ethical credential - B Corp certification can set you apart from the crowd. "By becoming a B Corp, it helps consumers to see a certified company has been rigorously assessed," says Morrison.

Ben & Jerry's, which gained accreditation in 2012, tells a similar story. "It covers something that most other accreditations don't cover, and that is our work within the community (our activism work)," says Anuradha Chugh, MD of Ben & Jerry's Europe. "Even though it is rigorous, it really is worth going through the process."

Innocent CEO Douglas Lamont was similarly attracted to the range of issues B Corp certification covers. As he says, "it shines a light on the whole of your business" rather than just one element. "Increasingly, consumers are looking for transparency throughout a company," he explains. "B Corp provides that robust torch which gets shone all the way around the circle."

If you make the grade, the advantages are plentiful. The rigorous requirements mean everyone in the B Corp community is highly committed to ethical business. That opens the doors for collaboration. CEOs in the B Corp community regularly talk to each other to offer advice and encouragement.
"It's a powerful thing to be able to sit alongside other brands which I really respect and to reach out to them and ask for advice when I need it"
Cuddigan is particularly positive about this aspect. "You've got this cluster in fmcg happening at the moment and that's because I talk to Douglas [Lamont] and I talk to Pip [Murray, Pip & Nut CEO] and then they're talking to other people saying 'wow, it's transformed our business, it's amazing'," he says. In 12 months, he hopes to have converted 10 of Ella's Kitchen's 20 partners to B Corp, as he did with creative agency Havas in 2018.

The feeling is reciprocated by Pip & Nut's Murray. "It's a powerful thing to be able to sit alongside other brands I really respect and be able to reach out to them and ask for advice when I need it," she says.

By teaming up, businesses have the power to make a bigger impact and make change happen, argues Jonny Easter, sustainability and conservation manager at Warner's Distillery (which is currently going through the process of accreditation). A case in point was the combined commitment made by more than 500 B Corp brands at the UN Climate Change Conference, COP25, to accelerate the reduction of their greenhouse gas emissions to reach a 1.5°C trajectory leading to net zero by the year 2030 - 20 years ahead of the 2050 targets set in the Paris Agreement.

The benefits go beyond the altruistic, too. In February 2018, B Lab reported that companies with certification had grown 28 times faster than UK GDP in the previous year. As the scheme gains more recognition, there is potential for even more commercial reward.
Retailer support
For example, Waitrose introduced a virtual aisle on its site for B Corp brands last February to mark 'B Corp Month'. That suggests the general public is starting to wake up to the benefits. "We predict this will only grow," says Jenny Costa, CEO of Rubies in the Rubble, which is currently going through the accreditation process. "Perhaps this year there'll be promotional space [in-store] dedicated to heroing B Corp brands."

Lily's Kitchen is also confident this kind of activity will gather momentum. "After all, people today are more aware than ever of the issues surrounding consumer culture - whether ethical or environmental - and this is informing their purchase choices," says Morrison.

For Cuddigan, it is an effective marketing tool. "You'll have more emotional campaigns that connect with consumers better on a real, authentic and honest level, which will make you more money."

That helps market the brand to future employees, as well as the public. "You'll be able to attract the best people to your business," he says. "I can honestly say that the last two people who joined Ella's Kitchen joined because we're a B Corp, and they've been incredible.

"Plus, I would argue you will have more engaged people who produce higher-quality work, which will make you more money."

Amid all of this excitement, though, there is a caveat. The B Corp community is still very small in the grand scheme of things. Compared with the 5.9 million private sector businesses currently in the UK, 270 is a drop in the ocean.

And with the exception of giants such as Danone, Innocent and Ben & Jerry's, the majority of these members are small businesses that were set up with sustainability in mind. The hope is that the movement will broaden to become more mainstream. Already, there are signs of bigger brands - albeit those with sustainable roots - starting to bite.

Last September, the Body Shop announced it had gained certification. The following month, The Guardian followed suit. As to Danone, which became the largest food and drink brand to certify as B Corp in the UK in December 2017, it's on a "long-term journey" to certify its entire global operations as B Corp. Adam Grant, regional VP for Danone Dairies UK & Ireland, says the brand is "proud" to be part of the movement.

So it's plausible more giants of the fmcg world will take the plunge, and possibly even the supermarkets (though retail adoption is currently limited).

All the B Corp CEOs who spoke to The Grocer are confident that, despite its rigorous and labour-intensive accreditation process, the movement can grow significantly. "More and more consumers are becoming clued up and - aware of their power - are looking more closely at brands they're purchasing," says Easter of Warner's Distillery. "This is driving the need for companies to be transparent and accountable, and certifications like B Corps help consumers assess which brands meet the necessary commitments and standards of sustainability. We believe B Corps could become mainstream, in time."

Cuddigan thinks the wider climate will be a motivating factor. "As CEO, I have one fiduciary duty only: to maximise shareholder return, at the expense of everything else," he says. "Now, though, things are changing. People are waking up to the fact that it's just not right and things aren't fit for purpose, and leaders are flocking to the B Corp movement because they realise that if you say you're a great company, you have to prove it. It's definitely the future."


10 UK companies that have been, or are going, through the B Corp process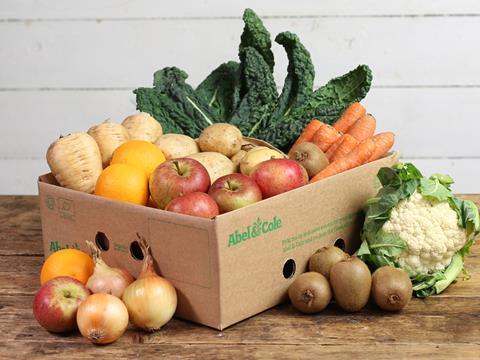 Abel & Cole
Launched: 1988
Employees: 550
Latest sales: £60m
First accredited: 2018
Current score: 88.4
Reason for joining: CEO Hannah Shipton says the company has "always tried to do things for the better", and felt B Corp was a great way to validate those efforts. "It's really helped us focus on areas where we can do more and challenge ourselves to be better," she says.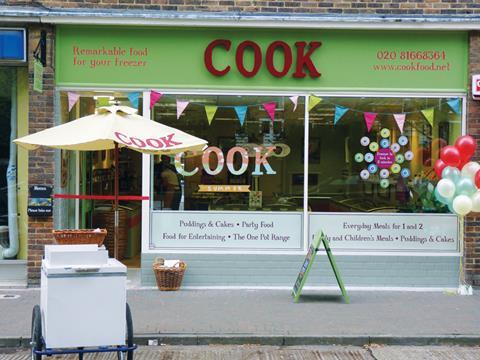 Cook
Launched: 1997
Employees: 1,200
Latest sales: £70m
First accredited: 2013
Current score: 87.5
Reason for joining: Cook was attracted to the rigour of the certification process. "We didn't just want a brand-stamp, we wanted to genuinely be more sustainable," says CEO Rosie Brown. She also liked the "sense of community" and quality of leadership within the B Corp movement.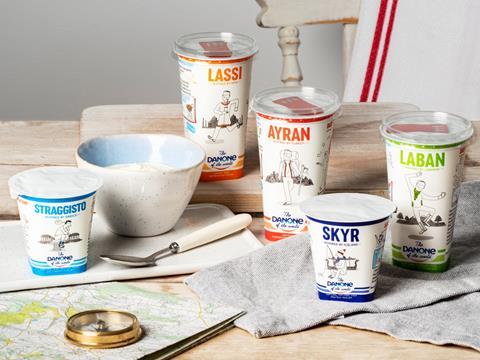 Danone Dairies
Launched (UK): 1988
Employees: N/A
Latest sales: N/A
First accredited: 2017
Current score: 80.2
Reason for joining: Adam Grant, regional VP of Danone Dairies UK & Ireland, says that, by joining the B Corp movement, the business is "walking the talk": "Our B Corp certification demonstrates our long-lasting commitment to economic success and social progress."
Ella's Kitchen
Launched: 2006
Employees: 80
Latest sales: £70.6m
First accredited: 2016
Current score: 90.5
Reason for joining: CEO Mark Cuddigan says Ella's Kitchen's values align with those of the B Corps. "We wanted to redefine how we measure success in business and make sure all stakeholders are taken into account," he adds. "That's why we joined the B Corp movement."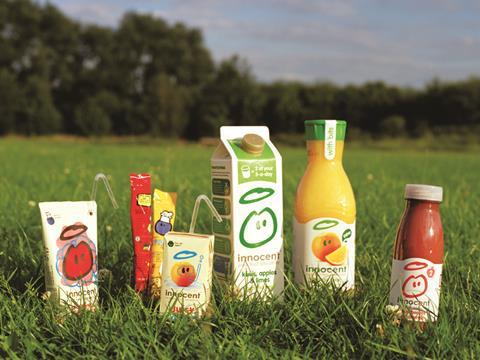 Innocent
Launched: 1999
Employees: 550
Latest sales: £430m
First accredited: 2018
Current score: 92.5
Reason for joining: CEO Douglas Lamont first heard about the B Corp movement from Ella's Cuddigan - "the source of most people's first contact". He liked that the framework provides a "very clear roadmap that any company of any type throughout the world can follow".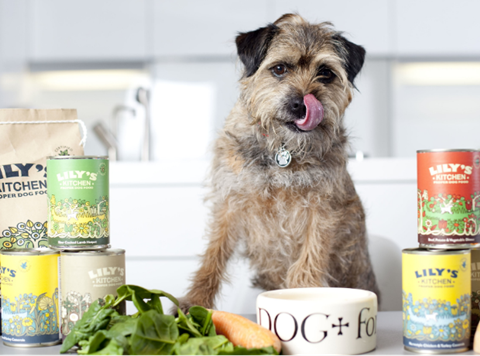 Lily's Kitchen
Launched: 2009
Employees: 54
Latest sales: £31m
First accredited: 2015
Current score: 91.1
Reason for joining: Founder Henrietta Morrison says the values of the B Corp movement "aligned perfectly with how we believe businesses - including Lily's Kitchen - should be run". She adds that the fit with the B Corp guidelines was "evident from the outset".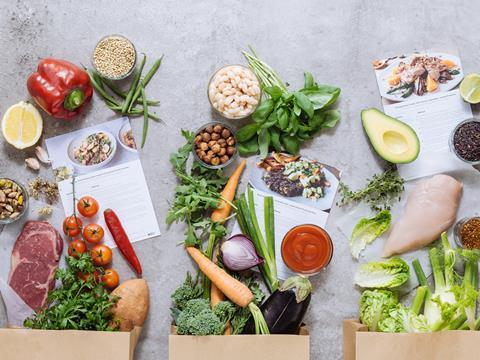 Mindful Chef
Launched: 2015
Employees: 40
Latest sales: £23m (projected)
First accredited: 2018
Current score: 80.5
Reason for joining: Founder Myles Hopper says the brand joined B Corp for the "stamp of approval" and the fact it brings businesses together. "We're in a precarious position. The only way we're going to get out of it is by working together."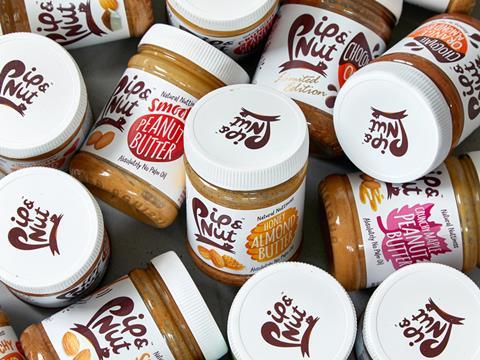 Pip & Nut
Launched: 2013
Employees: 20
Latest sales: N/A
First accredited: 2019
Current score: 81.2
Reason for joining: The B Corp ethos was what initially drew Pip & Nut to the movement. "It provides an amazing framework to be able to think through some of the choices you have about how you run your company," says the brand's founder Pippa Murray.
Rubies in the Rubble
Launched: 2010
Employees: 11
Latest sales: £1.2m (projected)
First accredited: Going through the process
Reason for joining: Founder Jenny Costa says having a purpose beyond profit is "at the brand's core", and is even written in its shareholders agreement. It also helps shoppers find ethical businesses that put the planet and people in line with profit more easily.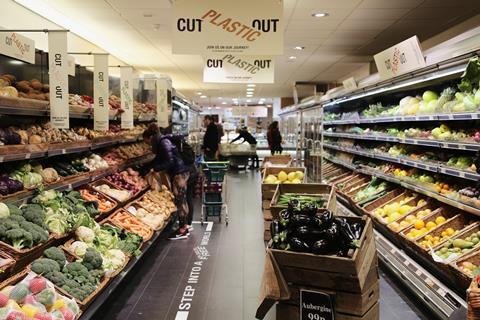 Thornton's Budgens
Launched: 2006
Employees: 85
Latest sales: £7.5m
First accredited: Going through the process
Reason for joining: Founder Andrew Thornton says the retailer already acts like a B Corp, so accreditation seemed like a logical next step. In its first assessment, the business scored "50-something" and is now looking at what it can do to improve in certain areas.

In business today profit is inextricable from purpose. And nowhere is that truer than when it comes to food and drink. From single use plastic to surplus food to slavery-free supply chains, the UK's grocery industry sits at the heart of almost every major ethical and environmental issue that shoppers are passionate about. Doing nothing is no longer an option.
For Britain's dynamic mix of brands, retailers, wholesalers and suppliers that shift poses both major challenges – and major opportunities. All of which we'll explore at The Grocer's 2020 conference: How to have a purpose.
When: 11 March 2020
Where: The British Library, London
Featuring a prestigious line-up of senior industry figures, the day's packed agenda will include talks, panels, workshops and more. Find out more here.