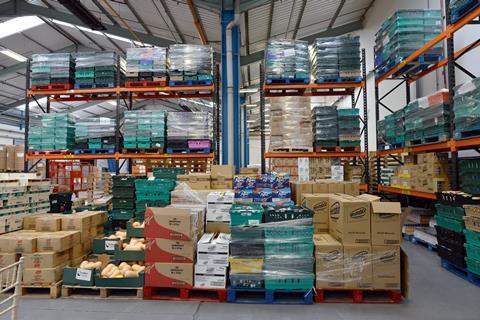 The effort is expected to lead to more than 20,000 pallets of food being sent to over 11,000 groups

Supermarkets have been asked to prioritise products such as pasta, rice, ham and corned beef

Wrap is co-ordinating with its Courtauld 2025 Redistribution network to identify those in need
More than 40 retailers and suppliers have responded to an emergency appeal to help tens of thousands of vulnerable people at risk of hunger due to the coronavirus crisis, The Grocer can reveal.

The IGD said there had been a huge response after talks between supermarkets, suppliers and charity bosses.

The rescue effort is expected to lead to more than 20,000 pallets of food being sent to over 11,000 groups on the ground, dealing with people such as the homeless and those with mental health or drug addiction problems.

Food redistribution charity FareShare, which is spearheading the food aid effort with IGD, told The Grocer the response from the industry had been "unprecedented" and followed calls for help from more than 500 charities in the past week alone.

The Grocer understands the operation will see an enormous amount of key food and drink products redistributed, including nearly 40,000 one-litre cartons of milk, more than 50,000 200g tins of meat and almost 80,000 cans of soup every week the crisis lasts.

Redistribution groups have asked for supermarkets to prioritise products such as pasta, rice and noodles as well as ham, stewing steak, corned beef and luncheon meats.

It is hoped the effort will see more than 20,000 large boxes of cereals, 20,000 packets of biscuits and almost 80,000 tins of baked beans redistributed each week.

"Two weeks ago, as the pandemic escalated, and with the support of Defra, we pulled organisations together from our industry to ensure the continued supply of products into food banks to help feed a vulnerable section of society," said IGD CEO Susan Barratt,

"It's a fantastic example of our industry working together to ensure that food can continue to be supplied and distributed through FareShare and other charitable food redistributors', networks."

FareShare CEO Lindsay Boswell said: "The response from the food industry has yet again showed its values and character in the same way it has responded to the pandemic in fields, factories, distribution warehouses and supermarkets.

"The generosity of these donations and the compassion for those vulnerable and in need is a massive credit to both the food industry and the IGD.

"FareShare will now co-ordinate these offers, not just for its own national redistribution network, but also to food banks and other charity food redistributors.

"We have seen more than 500 new charities and community groups register for food in just the last week alone."

As part of the project, Wrap is co-ordinating with its Courtauld 2025 Redistribution network to identify those who could receive food surplus.

"In the very short term, the hospitality and foodservice sector in particular has stocks of surplus food requiring rapid redistribution, especially fresh and chilled products," Wrap director Peter Maddox told The Grocer.

"Our role was to ensure businesses know who can distribute this surplus to people who urgently need food."

Among examples of help to food banks already announced, Tesco has revealed a £30m package of support for communities reeling from the coronavirus outbreak, including nearly doubling its support for food redistribution groups and food banks during the lockdown.

Meanwhile, Morrisons said it was extending production lines for an hour a day to help produce £10m of food to be sent to food banks.

Companies that would like to make a pledge should contact donations@igd.com.
Companies involved
The companies in this list are correct as of the time of publication. While we try to keep this article as up to date as possible, the situation surrounding the coronavirus pandemic continues to develop rapidly, so it's possible that some companies may have changed since publishing.
Aldi
Lidl
Kelloggs
Greencore
Samworth Bros
General Mills
Heinz
Tesco
Co-op
Unilever
ABP
Foodbuy
Coca Cola
Pepsico
Booker
Sainsbury's
Bakkavor Group
Waitrose
Asda
2 Sisters Food Group
Fresca
Eat Natural
The ICE Co
Biotiful Dairy
British Pepper and Spice
Warburtons
Amazon
Mondelez
Gran Lucia
Danone
Burton's