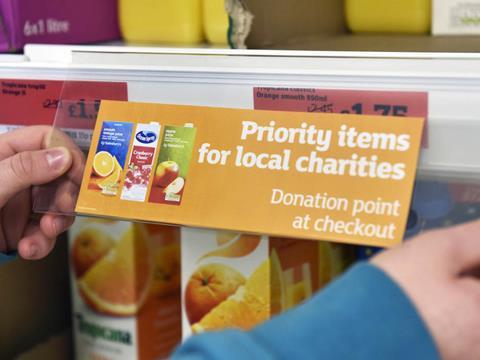 Sainsbury's has introduced a scheme to highlight items commonly needed by food banks.

Its Help to Brighten a Million Christmases campaign will see on-shelf labels flag items that are priorities for the charities.

The campaign has been implemented across all Sainsbury's UK stores following a trial at an Exeter branch from today (26 November).

The programme is also becoming a permanent part of Sainsbury's current food donation scheme, which includes in-store donation points.

Non-perishable food items to be flagged as donation priorities include tinned meat and fish, pasta, rice, tinned soup, tea and long-life fruit juice.
Argos is also launching a programme as part of the campaign, encouraging customers to donate toys for children up to 16 years old in stores until 16 December.

The initiative was designed by 13 National Citizen Service (NCS) graduates, who were tasked with coming up with a way to highlight priority products for food bank donation. The teenagers noted customers only saw food bank donation bins after finishing their shop, when it was too late to influence their shopping choices.

"We're excited to be working together as a Group to expand Sainsbury's food donation programme and to launch Argos' toy donation programme," said Sainsbury's head of corporate responsibility and sustainability Claudine Blamey. "We are committed to making a positive difference in local communities and we hope our customers get on board to help brighten the lives of those less fortunate in the community."