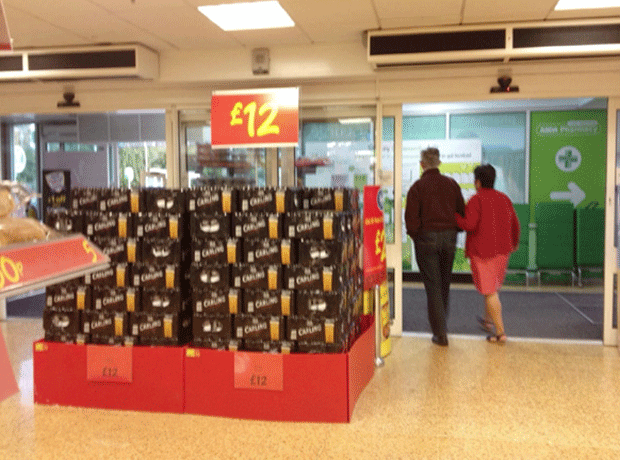 Asda president and CEO Andy Clarke has reiterated his calls for the government to take action to make retailers more responsible when selling alcohol.

Speaking to The Grocer this week, Clarke revealed his frustration with the government over the issue, which he said meant Asda had to water down its pledge to stop selling booze in the foyers of its stores.

Asda recently stocked a promotional display of Carling lager in its foyers over the August bank holiday and said it would now continue to use this space for alcohol deals for other holiday periods such as Christmas and Easter.

Clarke said he hoped Asda's move would get the government back to the table on the issue.

"I've been hugely frustrated by the lack of action by government to tackle promotional mismanagement of alcohol and I wasn't prepared to continue in a trading environment that wasn't level," he said.

"It is up to the government to re-engage with us all and get us to the same position. I'm very happy to take it back out of foyers to support the responsible drinking agenda but only if we are all in the same place and level."

Figures compiled exclusively for The Grocer show that of its major rivals only Tesco appears to have increased the use of foyers for alcohol promotions since Asda made its pledge as part of the government's Responsibility Deal in March 2011.

According to figures from promotions experts Assosia, neither Morrisons nor Waitrose has run an alcohol deal in foyers since 2010.

In 2011, just under 13% of The Co-operative Group's booze deals were located in its foyers. Last year this fell to just below 5% and the retailer has not had any such deals in its foyers this year.

Sainsbury's ranged 4.3% of its alcohol deals in its foyers in 2012 but so far this year, the figure is only 1.9% .

Even Tesco, which had a significantly higher proportion of its drinks deals in foyers last year (6.4%) compared with 2011 (2%), has only run 5.4% in foyers in 2013.

The government has come in for a host of criticism over its Responsibility Deal since ditching its plans for a minimum unit price for alcohol in July.

That move led to a mass walkout of health charities and NGOs, which has left Mentor UK as the only non-industry body involved in the group steering the government's alcohol policy.