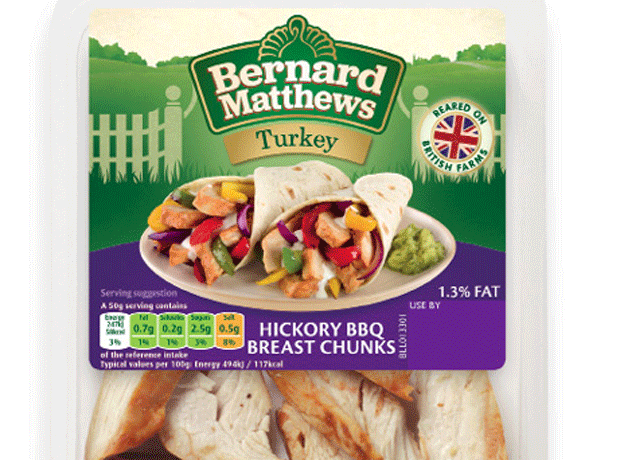 Bernard Matthews has secured an investment of in excess of £20m from turnaround specialists Rutland Partners, which have taken a substantial equity stake in the turkey business.
The deal will see Rutland Partners Paul Cartwright and David Wingfield join the Bernard Matthews board. Financial details of the deal – including the size of Rutland's share in Bernard Matthews – were not disclosed.
However, Bernard Matthews executive chairman David Joll told The Grocer today the turkey giant and Rutland had entered into a "very significant partnership", and that the investment amounted to more than £20m. "It's been very well documented recently that we'd gone to the City looking for at least a £20m injection into the business," he said. "It's in excess of that."
Joll, who was parachuted into the business in May, said Rutland would bring "lots of financial discipline" to Bernard Matthews as well as experience in examining and driving operational efficiency.
Crucially, the capital injection would allow Bernard Matthews to kick-start a significant programme of investment into its sites and facilities, including bringing in greater automation and updating on-farm facilities with new roof insulation and state-of-the-art feeders and drinkers, Joll said.
Bernard Matthews also planned major investment in its brand and significant increase advertising and marketing support, he added. "Because of the business' poor financial performance recently, it hasn't been able to invest," he added. "The money from Rutland will change that. We've had great support from our customers, and we'll be repaying that now by investing."
The company returned to the black in its last reported financial year, recording a profit before tax of £2m for the 12 months to 3 July 2011.
New CEO
Bernard Matthews went through a major management shake-up earlier this year, with UK MD Rob Mears, chairman David McCall and CEO Noel Bartram all leaving the business.
With Rutland now on board, Bernard Matthews was ready to begin the search for a new CEO for its UK business, Joll said, with a view to having a new boss in place in early 2014.
"We've had great support from our customers, and we'll be repaying that now by investing"

David Joll
Joll himself is staying on as executive chairman for the foreseeable future. "I am making good on the promise I made to the Matthews family when I came in that I would stay as executive chairman for a year and be available as non-executive chairman after that. I have extended that promise to Rutland," he said.
Wingfield at Rutland said Bernard Matthews had a widely recognised brand, and Rutland had been impressed by the energy and passion within the business. "We are looking forward to the prospect of working with them under David's leadership to enable the business to reach its full potential," he added.
Rutland specialises in turning around troubled businesses. Last November, it acquired Pizza Hut's dine-in business.