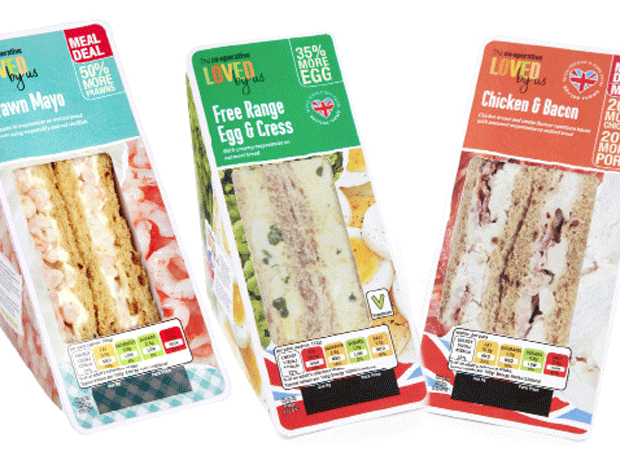 The Co-operative Group has unveiled its latest weapon in its fight to boost flagging sales and attract younger shoppers to its stores.
It is carrying out a major overhaul of its standard own-label tier and relaunching it under the new name 'Loved by Us'.
The new-look range will start hitting stores in September, beginning with food-to-go, ready meals, pies and pizzas. As many as 700 lines will be updated by Christmas, with the remaining 1,800 products in the 2,500-strong range rolling out in 2014. New products will also be introduced and existing products reformulated.
It is the first time the standard range has been revamped since October 2006, when the society ditched its iconic Co-op logo for The Co-operative.
Co-op Group own-brand strategy manager Marjorie Murphy told The Grocer "the time was right" to look at the design of the range again.
"We wanted to create a brand name that would appeal to younger consumers and showcase our food credentials"

Majorie Murphy, Co-op
"We wanted to create a brand name that would appeal to younger consumers and showcase our food credentials," she said. "It will make stores easier to shop because it's really important for a standard tier to provide clear navigation across numerous categories."
Murphy said the name 'Loved by Us' had been chosen to demonstrate The Co-op's "love and passion of food, which provides the inspiration to develop tasty and delicious, everyday food for customers to enjoy".
It was also a nod to the society's tasting process at its new One Angel Square HQ in Manchester. The Co-op has opened a state-of-the-art taste kitchen there where it develops its own-label products and blind tastes them against competitors'. It has also recruited 1,000 of its staff to test its products in their own homes.
Consumer research had been conducted to ensure the packaging clearly communicated the quality of the new ranges as well as the food integrity the Co-op was known for, Murphy said.
"The new look is confident, bold, and in keeping with the modern co-op business that we are today," she added. "The response has been very positive from consumers, staff and suppliers. They say it is very original and not like anything else they've seen on the market."
The society has been working on the revamp since September, when Steve Murrells joined as Co-op Group food CEO.
The Co-op Group is working to attract younger consumers to its stores. In May, new Co-op Group CEO Euan Sutherland told members the society's own research had found only 12% of 16 to 24 year-olds thought the Co-op was "the most trusted brand" compared with 43% of over-55s.