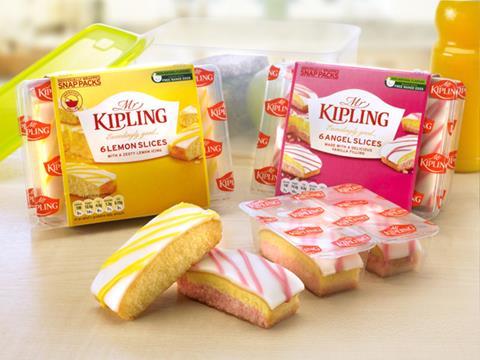 Premier Foods is to invest £20m in a new production line for its growing Mr Kipling Snack Pack slices range.
The new production and packing line at Premier's cake manufacturing site in Fish Dam Lane in Carlton, Barnsley, would be able to produce 300 million cake slices a year, said Premier, double the company's current capacity. The investment will take 12 months to complete and will include the installation of a mixing station, oven and packing robotics.
"This is a strong vote of confidence by Premier Foods in the Carlton site and the Carlton workforce," said Jason Ramsay, general manager for the Carlton factory. "We have been manufacturing Mr Kipling cake at Carlton since 1975 and this latest news is a huge boost for all of us."
Mr Kipling Snack Packs were launched in September 2011 and had enjoyed "fantastic growth", said Premier, with high purchase frequency and strong repeat rates. The format – individually packaged slices that can be broken off and eaten one at a time – encouraged shoppers to think of cake outside the traditional teatime occasion, added the company, and created a growth opportunity for the category by making cake a viable option for snacks, lunchboxes and sharing.
News of the investment follows reports this weekend that Premier is in talks to sell a majority stake of its bread business, which includes the Hovis brand, to US-based private equity firm Gores Group.
In November 2013, Premier appointed financial advisors Ondra Partners to develop "investment options" for the bread division. Last month, The Grocer reported that Gores Group – together with turnaround specialists Sun Capital and United Biscuits owner PAI Partners – was on a shortlist of investors in the running to buy a share of the business.