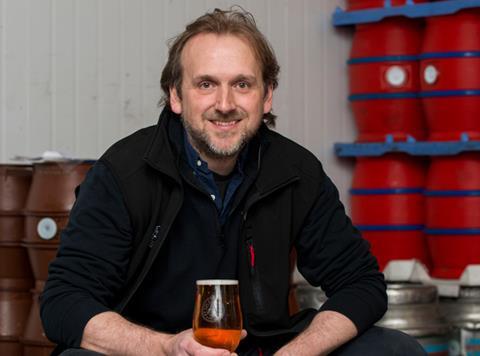 Scottish craft brewer Fyne Ales has started a £2m expansion as it looks to double its turnover and meet growing demand for its beers.
Fyne produces around 30 beers a year, and sells across Scotland in Waitrose and Morrisons, as well as through off-licences and independent pubs, bars and restaurants.
It is the current holder of the Champion beer of Scotland accolade, which was awarded to Jarl – "a hoppy blond session ale" – at the 2013 Camra Scottish Real Ale Festival in Edinburgh.
The Argyllshire family-run brewery currently produces 90 barrels of beer per week, and the first expansion phase will see production increase to 180 barrels. The farm's former sheep shed will house the £2m brewery, which will use British-made brewkit.
Fyne said it expected to turnover to increase from £1.6m to more than £3m by 2015 – and then to £5m over the following two years.
"Producing top-quality Scottish beer is the real focus for us," said Fyne Ales MD Jamie Delap, whose parents founded the business on their farm in 2000. "When a brewery announces it's going to be expanding and introducing new techniques, there's often concern from drinkers that it will change the taste of the finished product.
"In our case, the expansion is about meeting growing demand but first and foremost is an opportunity for us to get even more flavour and consistency into our beers using kit like a hopback, which will extract brighter and fresher aromas from the hops," he added. "The new brewery will also allow us to mill malt on demand, which will add a new level of freshness to our beers."
The development is co-funded with grant support from the Highlands and Island Enterprise scheme; a Food processing, Marketing & Co-operation Scheme grant from the Scottish Government; and a £1m loan from Bank of Scotland.