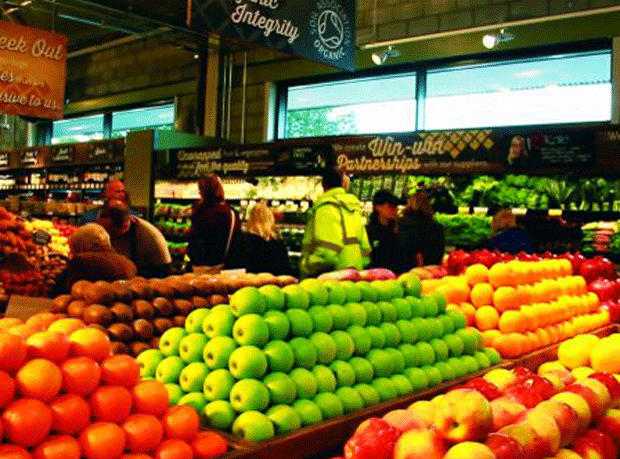 In the US, Whole Foods Market goes from strength to strength but it has stumbled from one loss to another this side of the Atlantic.

Group profit before tax rocketed by over a third to £752m in the year to 30 September, yet accounts filed at Companies House last week revealed UK losses tripled to £12.6m.

Since entering the UK in 2004 Whole Foods has clocked up losses of £79.8m.

The failure of the UK arm to turn a profit has halted pre-recession plans to open 40 stores here. There are currently just seven. Still, last month during a trip to the UK with the board, founder and CEO John Mackey insisted the company was committed to the UK.

After a talk at Oxford University about his new book Conscious Capitalism, Mackey signalled to The Grocer his intention to open more, smaller stores in the UK. "We are not leaving the UK. We are going to invest, but we can't open the big 40,000 sq ft stores that have been so successful in America. The market isn't right here," he said.
UK losses
2004: Acquires seven Fresh & Wild stores. Makes loss of £3.5m
2005: reports loss of £2m
2006: Closes City of London store. Makes loss of £4m
2007: Opens flagship 80,000 sq ft store in High Street Kensington. £9.9m loss announced
2008: Closes Bristol store. Losses soar to £36m
2009: Loss down to £4.3m
2010: Losses fall to £3.1m
2011: Opens Glasgow store. Losses increase to £4.4m
2012: Relocates Soho store and Cheltenham store opens. £12.6m loss announced
2013: Whole Foods signals smaller store push
So will this new strategy pay off? And why has it so far failed to make a profit?

One big problem here is the high costs. It has an 80,000 sq ft flagship store in Kensington and half its other six stores are in expensive central London sites. "They operate in very expensive places and have expensive store fit-outs and practices. Stacking the fruit & veg in pyramids looks fantastic but takes a lot of time," says Conlumino analyst Neil Sanders.

The four stores in London are far from empty but most customers are doing a top-up. Without car parking space, the retailer is struggling to drive the volumes to justify the space.

Opening stores as small as 15,000 sq ft should help redress the balance and improve Whole Foods' chances of being profitable, says Sanders. But given competition from the multiples, finding sites won't be easy. "The UK supermarkets have been fighting a war over small sites for a long time," says one supplier.

There are other concerns, too. Whole Foods faces sterner competition than in the US. In London, it has to compete with the likes of Waitrose, M&S and Sainsbury's, as well as Fortnum & Mason, Harrods, Selfridges, Harvey Nichols and an array of independent delis. "The UK is a very crowded market and it's not clear where Whole Foods fits in," says Sanders.

Nevertheless, there are positives. Whole Foods is well liked by suppliers. Its buyers are increasingly visible and are praised for their understanding of good food. It is also reportedly starting to adapt to the expectations of UK consumers, by running more promotions and stocking more ready meals.

Furthermore, the horsemeat scandal may have done Whole Foods Market a favour: after organic food sales went into freefall just after Whole Foods opened in Kensington in 2007, signs are that the market is back in growth.

And at least sales are on the up. Helped by the opening of its Glasgow store, they increased 28% last year to £64.6m. Whether that is good enough to help Whole Foods finally make a profit is another matter.