This article is part of our Confectionery Report 2015
NPD has been crucial for confectioners over the past year, with candy players investing in a new breed of softer gummy sweets and chocolate brands forking out on snacking formats and innovative new flavours.
Chocolate brands are also eyeing growth through innovative NPD, with the likes of Galaxy Salted Caramel racking up £4.4m since its launch in March while Cadbury Marvellous Mix Ups added a further £9.2m to brand value. But it's not all smooth sailing – two skus from last year's hero Marvellous Creations have been axed as range rationalisation starts to hit the category.
Top 5 sugar confectionery brands
VALUE
VOLUME
£m
y-o-y%
kgs (m)
y-o-y%
Haribo
161.0
6.1
32.8
10.2
Rowntrees
89.1
-11.8
10.9
-11.2
Maynards
66.6
-1.0
9.4
2.9
Trebor
62.5
-2.3
5.9
0.6
Bassetts
49.7
-1.4
7.1
0.1
In sugar confectionery, the sweets may be soft, but they're racking up hard cash. Swizzels has added £3.1m to sales [IRI 52w/e 23 May 2015], thanks in no small part to its Squashies range which was launched in 45g countline bags and 160g sharing bags in October 2012.
"A large part of Swizzels' success in recent years is attributable to the Squashies range," says Sarah-Louise Heslop, marketing manager at Swizzels. "By transforming traditional brands, old favourites such as Drumsticks and New Refreshers, into a soft eating gum version, Swizzels has entered into the gums and jellies category in no small measure."
The numbers speak for themselves. "The Squashies brand is in 46% growth, and so far in 2015 a bag of Squashies has been sold on average every two seconds," Heslop adds. Next for the transformation is Refreshers and Drumsticks, which have been given the bon bon treatment – a category Swizzels has identified as "up-and-coming".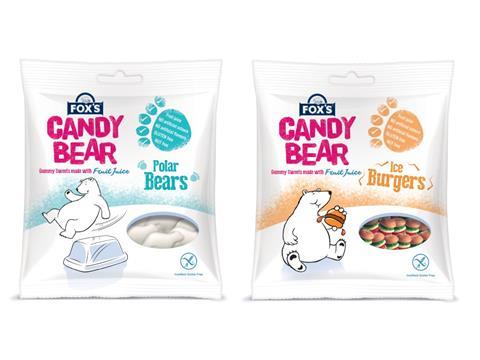 Tangerine Confectionery is also targeting growth through soft gum versions of classics. Wham, Refreshers and Fruit Salad have been given a makeover and are available in 120g and 160g packs under the Candyland brand.
Meanwhile, Big Bear Confectionery kicked off its plans to build its branded business with the launch of a free-from sweets range under its Fox's brand. Unlike Swizzels and Tangerine, Big Bear has created new flavours and products rather than changing the formats of existing ones. The six-strong Candy Bear range includes Shivering Sharks, Polar Bears and Snowy Seals.
"Fox's Candy Bear sees us enter the dynamic gummy sharing market with a product appealing to health-conscious shoppers and those following a special diet. The sweets are made with real fruit juice, no artificial colours or flavours, and are also gluten-free and nut-free. We believe these claims are a first for a children's gummy sweets range," says Ross Stanley, head of trade marketing at Big Bear Confectionery.
Minions mania
Haribo is another prime example of the success soft gums can bring. Sales are up by £9.2m (the largest growth of any sugar confectionery brand). The happy world of Haribo was among those to be invaded by the banana-loving Minions from Despicable Me.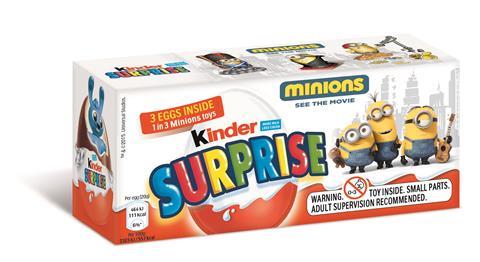 Kinder is also jumping on the Minion bandwagon. Rolling out from August, its limited edition Kinder Surprise Minions eggs aim to capitalise on the popularity of the animated characters. The launch will be supported by a TV creative, which runs for five weeks from September, and forms part of a £3.6m investment in the brand over coming months.
Kinder is hoping Minions will add to the 'stellar' growth it saw this year. Value sales rocketed by 21.9% adding £9.7m to brand value. "Kinder Surprise Pink and Blue eggs contributed significantly to this performance and benefited from a new TV ad and heavyweight media plan delivering a 'treat for the imagination'," says Levi Boorer, Ferrero customer development director.
It was a good year all round for Ferrero's confectionery brands – Kinder Bueno gained £2.8m while Tic Tac added £2.4m. Boorer attributes a number of factors to Tic Tac's success, including insight led innvoation and 'gold-standard' in-store displays. "Over the last year, we have introduced new flavours and on-pack promotions such as Tic Tac 'Find a Fiver' and Tic Tac 'Happy Rewards', where shoppers were rewarded with a wide array of relevant gift with purchase options," he says.
Ferrero is also rolling out Tic Tac Mixers in Cherry Cola and Peach Lemonade flavours, which will be supported by a £1.3m marketing campaign. Boorer says Mixers will provide retailers with a "powerful incremental sales opportunity".
Innovation
Top 5 chocolate brands
VALUE
VOLUME
£m
y-o-y%
kgs (m)
y-o-y%
Dairy Milk
£469.1
-6.3
47.9
-10.4
Galaxy
£224.4
5.5
24.3
8.6
Maltesers
£123.3
3.6
11.3
7.1
Kit Kat
£108.6
1.4
13.4
0.2
Twirl
£83.1
4.3
8.0
-2.1
Galaxy is also hoping NPD will further boost sales as it prepares for the launch of Duet. Over the past year it has racked up a further £11.7m in sales. "The NPD we've had this year so far, even ahead of Duet, which was Galaxy Salted Caramel has proven to be a real hit in terms of single format and a large block format," says Bep Dhaliwal, Mars UK trade relations manager. "We've also had £1 PMP on Galaxy which again has been a key contributor to growth."
Mars UK is continuing to splash out on Galaxy with £12m to be spent on marketing in 2015. Meanwhile, M&M's is getting an £8m marketing budget. The campaigns rolled out so far in 2015 – the Character Election and Ms Brown campaigns – have helped M&M's gain the biggest growth from the Mars confectionery portfolio adding £19.7m. "Making the characters come alive through the campaign has really played a massive role in the success of the brand," adds Dhaliwal.
Maltesers has also performed well, thanks to extensions into seasonal lines and the Maltesers Teasers bars, as well as a tie-up with Comic Relief.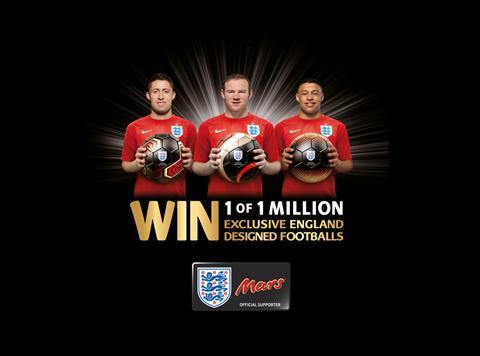 But this growth is not consistent across the whole Mars portfolio. Snickers lost £6.2m and Mars bars lost a whopping £19m as volumes plummeted by 27.4%. But, Dhaliwal remains optimistic due to the success of Mars' biggest ever consumer giveaway called 'Winning', which gives consumers the chance to win one of one million exclusive England team designed footballs. "We've invested significantly behind the brand and have seen performance improving in the last 12 weeks – a good result given that we are lapping the World Cup 2014," she says.
Cadbury Dairy Milk is another power brand to lose out. Sales fell by £31.5m (-1.4%) on volumes down 4.4%. It's hero of 2014 – Marvellous Creations – suffered a loss of £18.2m (-34.4%). In a bid to improve on this, Cadbury has introduced Rocky Mallow Road and is axing Banana Caramel Crisp and Cookie Nut Crunch skus.
However, Marvellous Mix-Ups, which was its focus for 2014, grew sales to over £13m. Recent NPD Puddles has also added a further £4.5m since its launch in April. "Cadbury Dairy Milk Puddles is a great example of a brand driving category growth, bringing consumers something that is innovative and exciting," believes Matthew Williams, Mondelēz International marketing director.
Wispa, Twirl and Crunchie also took a hit on sales as they deal with the declining singles market. On top of this, Mondelēz took the decision to increase prices across its portfolio, something Williams attributes to a number of economic factors including ingredients costs.
Prices also increased across Nestlé's portfolio, most notably on Toffee Crisp and Yorkie. This didn't stop the former growing though – sales are up 25.3%. The rest of Nestlé's portfolio is a mixed bag. Kit Kat gained 1.4% in value while Aero, Milkybar and Yorkie saw a collective loss of £10.1m.
In contrast, Wrigley's Extra had a great year adding £8.3m in sales. In January this year, Wrigley strengthened its Extra portfolio by incorporating Orbit into its range and in March it rolled out a new pack design across the globe on the entire Extra range.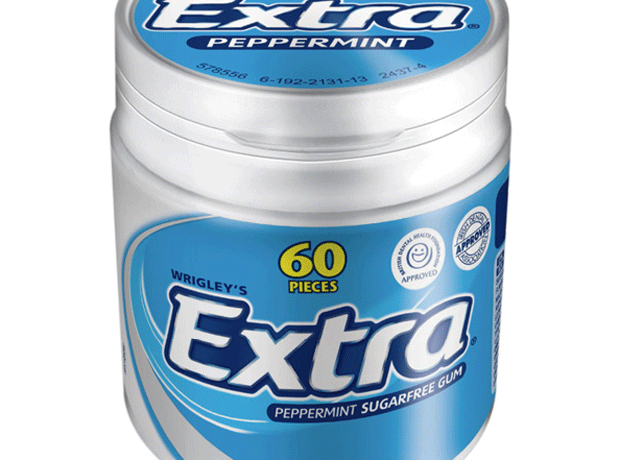 Wrigley attributes its growth to a consumer shift towards sugar-free gum (95% of Wrigley gum is now sugar free), a £15m marketing campaign featuring Ashton Kutcher and the success of its bottle format. "Bottle formats are seeing increasing success, and the trend towards snacking at work and eating and drinking on the go has been the key to this," says a spokesman for the brand. "Consumers are looking for a convenient way to keep their teeth clean and healthy after eating and drinking, when brushing isn't possible. Wrigley's 46 pellet bottle format meets this demand."
The bottle format also proved popular for Skittles, featuring a re-sealable lid for snacking on the go. It wasn't enough though: sales are down 3.8%, but Wrigley remains positive. "We believe we have a strong portfolio and expect to see an uplift later this year and into 2016. The recent launches such as the new Skittles Bottle format and additional price marked packs aim to capitalise on the growing consumer trends towards snacking on-the-go and value," adds the spokesman.
It is also looking to further capitalise on Halloween in the UK with Skittles and Starburst.
In association with: