This article is part of our 2016 Confectionery digital feature
With sugar in the firing line and health on many consumers' minds, how have confectionery manufacturers fared this year? We've teamed up with Statista to find out.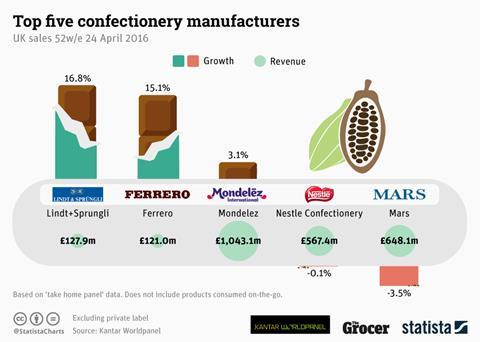 Mars and Nestlé both suffered this year with -3.5% and -0.1% losses, respectively. This was in stark contrast to the performance of Lindt + Sprüngli and Ferrero - who both enjoyed double digit growth - as consumers seek premium treats from the confectionery aisles.
Lindt's growth has been attributed to expansion on ranges such as Lindor 200g boxes, which now include Strawberries & Cream and Chocolate Orange variants, whereas children's NPD such as Kinder Joy has given Ferrero a boost.
In partnership with: www.statista.com
Next article - Banned chocs from across the globe: Where and why?
Previous article - Spar buyer: confectionery is 'resilient' in tough market