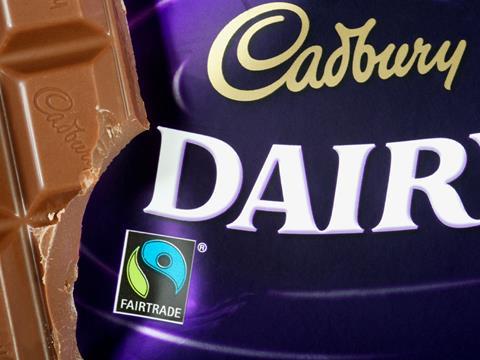 Of all the controversy among British shoppers over Kraft's £11.5bn takeover bid for Cadbury in 2010, little related to the plight of cocoa farmers in West Africa.

Yet six years on the relationship between Cadbury and the Fairtrade Foundation is at the centre of a new 'takeover' row, this time on front of pack.

Last week The Grocer revealed Mondelez is planning to ditch the Fairtrade logo from the front of chocolate bars, including Dairy Milk, switching instead to promoting its own sustainable sourcing initiative Cocoa Life across its entire Cadbury range.

Cocoa Life branding will replace the Fairtrade logo currently on the front of plain Cadbury Dairy Milk bars from May, along with Cadbury drinking chocolate, Dairy Milk Buttons and Giant Buttons, followed by Flake, Twirl and Wispa, with all Cadbury lines carrying the branding by 2019.

But is this really Mondelez "taking ownership" of the sustainability issue, as it claims, or a recipe for consumer confusion? And does it spell the death knell for Fairtrade?

Glenn Caton, president, Northern Europe, at Mondelez International, believes the move signifies sustainability "coming of age". He claims five times the amount of chocolate will be involved in the programme as has been included under the tieup with Fairtrade to date.
What is Cocoa Life?
$400m Mondelez programme has set target of helping 200,000 farmers and one million community members in six key cocoa-growing origins secure their futures by 2022
Launched in Ghana in 2008 as the Cadbury Cocoa Partnership, Cocoa Life has been rolled out across more than 795 cocoa farming communities around the world. Independent verification shows farmers in the Cocoa Life programme in Ghana have seen their incomes increase 49% more than farmers outside it.
And crucially, he adds, "Fairtrade is still there to hold us to account." That's because, while its logo will be relegated to back of pack, Fairtrade has joined as a partner in Cocoa Life and FLOCERT, Fairtrade's independent assurance and certification body, and will continue to independently verify the supply chain of Cocoa Life, which includes tracking the quantity of sustainably grown and traded cocoa and the loyalty payments made to farmer organisations.
Michael Gidney, CEO of the Fairtrade Foundation, strenuously denies the change represents a threat to its future. "Certification is the floor, not the ceiling as far as we're concerned," he says, adding that Fairtrade is confident farmers in the Cadbury supply chain will be at least as well off, if not better off, under the new arrangement. And while the lion's share of its work will remain certification, he wants Fairtrade to become more closely involved in areas beyond negotiating prices, such as climate change, which only closer involvement with company supply chains can bring.

"By 2050 available land for cocoa in West Africa is set to drop by a third. Climate change is now a reality. These partnerships will allow us to direct more resources to those types of issue."
Opposite direction

The demise of the logo on Cadbury comes despite 6% volume growth for Fairtrade cocoa products in the UK in 2015, and it still has its mark on over 4,500 products in 74 countries. And last year Mars went the opposite way to Cadbury by adding the logo to the front of its Mars bars.

But others are concerned the move by Mondelez could be a major blow for Fairtrade, especially as even Caton admits Cocoa Life is a virtual unknown among UK consumers.

Anna Taylor, executive director of the Food Foundation, says she fears the Fairtrade mark is coming under threat from less transparent company promises.

"The UK leads the world in Fairtrade with more products and more awareness than anywhere else and we have seen a rapid rise in sales in the last two decades," she says. "But for growth to continue, which I hope it will, consumers must trust, see and recognise the mark. If every company has their own mark it will be extremely difficult for consumers to determine which mark represents the best, independently verified standards."

Patrick Holden, founder of the Sustainable Food Trust and a former director of the Soil Association, suggests Fairtrade has paid the price for failing to work collaboratively enough in the past with other sustainability organisations.

"Fifteen years ago when I was at the Soil Association we went to Fairtrade with a plan to work together and they didn't want to know. They said, we don't want to collaborate. They were quite sure people knew exactly what they were about and it certainly wasn't feather-bedded European farmers."

Too price focused

However, Tobias Webb, founder of the Innovation Forum, believes both Mondelez and Fairtrade are right to look for a new approach.

"Schemes like Fairtrade have delivered good benefits for some farmers but they have never managed to achieve what they set out to do, not least because the challenges are just so huge and complex.

"That's why I think it's a good thing for Mondelez to take more ownership. Fairtrade has concentrated far too much on price and not enough on other issues like sustainable developments and climate change, and it's good it is looking to change that.

"Companies like Mondelez are coming into countries where there are hundreds of NGOs operating. They are saying this is how we need to consolidate and join up our work on sustainability, and then are looking to different NGOs like Fairtrade to help make it happen in different areas of the strategy."

Webb admits there is an "uncomfortable" tension between consumer views on how sustainability should ideally work, and the reality of powerful companies operating in the face of under-funded and inept governments and NGOs.

But, at Mondelez, Caton says the threats facing farmers and the environment are such that doing the right thing on sustainability is not just a moral but a business imperative. As the first new Cadbury wrappers roll of the production line next May, consumers will get a taste of how transparent it will be in that mission.