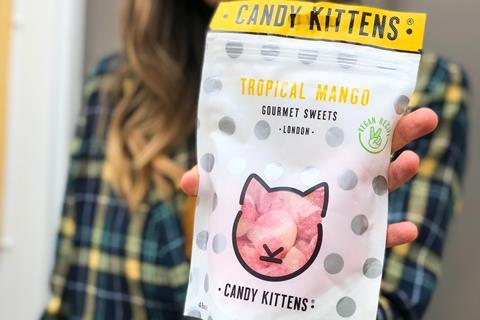 Candy Kittens is considering legal action against Aldi after discovering the discounter's plans to launch a range of sweets it claims are a knock-off of the upmarket brand.

Candy Kittens MD Ed Williams told The Grocer his team had discovered the sweets - which have not yet launched into Aldi - in the warehouse of one of its contract packers.

"To see that on the shelves of their warehouse was so disappointing," he said.

"We have confronted them [the packer], and their answer was that the Aldi business was just too good [to turn down].

"It raises a real question of trust and partnership and as a consequence we are reviewing how we move forward."

Williams said he believed there were "grounds for us to take the action on the basis that [the product] is so similar.

"It takes value out of brands like ours that are working really hard to build brand equity.

"Aldi is a challenger brand itself to a certain extent in the current grocery landscape - for them to be the ones who are flying in the face of challenger brands on the ground, it's a shame they haven't spotted the opportunity to support and nourish the thriving scene. Someone has to stand up to it and make a bit of noise."

An Aldi spokesman confirmed the existence of the sweets, which he said were likely to go on sale over the coming weeks.

However, he said Aldi had not yet received any correspondence from Candy Kittens.

Candy Kittens is the latest in a series of challenger brands to confront Aldi over its 'copycat' brands.

Last year Aldi bowed to a deluge of bad publicity and redesigned the packaging of its Italian-style chicken sausages after it was challenged by Heck's owner Andrew Keeble, who accused Aldi of "mimicking" his brand's design for its Chicken Italia product.
Dairy brand The Collective also successfully challenged Aldi over a copycat yoghurt it produced.

Candy Kittens' Williams added: "I hope this sends a a warning, even though the product hasn't hit the shelves, that we are being vigilant and we are on top of our IP and trademark protection.

"You can understand a Haribo or a Maynards perhaps having these issues but for us a As a small brand that's working hard to establish itself, it's that much more difficult to swallow. You have to have your IP and you very much have to keep an eye on the third party suppliers you're working with.
Candy Kittens saw strong growth last year: sales were up 54% over the 52 weeks to 11 August 2019 [IRI].