This could be seen as the year in which Kraft made its mark on the Cadbury brand. The past few months have brought a raft of innovation - much of it inspired by products developed for other markets and under other Kraft brands, such as Milka.

Among the new lines have been pretzels and toffee popcorn coated with Cadbury Dairy Milk, a revamped Cadbury Dairy Milk Bubbly, controversial 'girly' countline Crispello (see below) and the announcement of the forthcoming Egg 'n' Spoon - an Easter novelty that has proved a big hit in Europe under Kraft's Milka and Freia brands. It was launched in Germany 10 years ago as Milka Löffel-Ei - literally, 'spoon-egg' - and accounted for 17% of Milka sales in Germany this Easter.

But perhaps the clearest indication of Kraft stamping its presence on this British institution was combining it with a classic US biscuit brand in the launch of chocolate bar Cadbury Dairy Milk with Oreo. Chocolate purists might be horrified at the thought, but the bar has caught the imagination of British shoppers, outselling other chocolate block SKUs by 2.5 to one in The Co-operative Group during its launch week.

"It is still early days for many of these launches, but we hope to see incremental growth into 2013 as they excite consumers and drive trial," says marketing activation director Matthew Williams.

And it looks like Cadbury Dairy Milk could do with a boost, with rival Galaxy putting in a stronger showing, with volume sales up 10.5%. Dairy Milk's overall performance - the brand has grown 1.2% in value and dipped 0.5% in volume - is also behind that of the overall chocolate confectionery market, which rose 3.4% in value as volumes grew 1.4%.

"Value growth in the chocolate confectionery market was largely driven by price increases this year, with volume growth remaining relatively flat," says Nielsen senior client manager Thomas Davies. "The story really hasn't changed that much from last time."

Cadbury hasn't been the only one cranking up the excitement this year. Sales of Mars' M&Ms, which rose 22.9% by value year-on-year, enjoyed a boost from the roll-out of a patriotic red, white and blue pack for the Diamond Jubilee.

Nestlé, meanwhile, kicked off 2012 with its biggest-ever push for Kit Kat. The Choose a Chunky Champion event invited consumers to vote for their favourite of four limited-edition lines and resulted in Chunky Peanut Butter becoming a permanent extension to the brand. The drive increased the brand's number of Facebook fans by 162%, while Nestlé says the number of Chunky shoppers increased by 275% during the promotion. The push also played a big role in driving growth in Kit Kat - up 9.9% in value and 8.2% in volume - and helped bring 200,000 new shoppers to the countline category, says Nestlé.

It's been a welcome boost. Sales of chocolate countlines have suffered over the past few years, due to a combination of shoppers gravitating towards sharing formats and multipacks, a reduction in the number of CTNs and fewer women buying single bars, Cadbury told The Grocer earlier this year. The confectioner has looked to tackle the issue with the launch of a new countline format for its Dairy Milk Bubbly sub-brand - a 40g Mini bar in a resealable pack.
"Consumers continue to move away from chocolate singles and favour multipacks" Thomas Davies, Nielsen
The decline of countlines may also have been exacerbated by publicity around the falling size of chocolate bars. The trend for shrinking confectionery was officially recognised by the Office for National Statistics last month, with it estimating that the size of confectionery products had dropped by an average of 10% over the past year.

Given that this drop in pack sizes came despite a 45% fall in cocoa butter prices in 2011, the subsequent 80% increase in price to more than £2,800 a tonne recorded by Mintec this year suggests confectionery products will continue to shrink - unless prices rise.

"While manufacturers endeavour to recoup costs through downsizing packs, consumers continue to move away from chocolate singles and instead favour multipacks and sharing bags," says Davies.

Not that the trend for sharing packs is necessarily bad news for individual brands - sales of Cadbury's Twirl and Wispa, for example, are soaring following the rollout of new sharing formats for both brands. "The launch into bitesize bags with Bitsa Wispa and Twirl Bites has been hugely successful," Williams explains.

Such product development helped Kraft increase its share of the chocolate confectionery market by 0.5 percentage points to 37.3%, while Mars used a different strategy to gain 0.4 points. "Kraft focused on NPD such as Bitsa Wispa and Bubbly, and also used Cadbury's Olympic sponsorship as a springboard to growth," says Davies. "Mars played more within the seasons and, while not launching anything too innovative, became more effective with promotions."

Its volume sold on deal, he adds, increased by 4.2 points to reach 65.2%, putting it on a par with Kraft.

The sharing trend has also benefited chocolate assortments such as Celebrations and Heroes - which sits just outside our top 20 table but is in strong value and volume growth - while stalwarts Roses and Quality Street appear to be showing their age, with volume sales in double-digit decline. The Creme Egg - which turns 50 next year - is also looking a little cracked, staggering three places down the table on sales losses of 8.1% in value and 8.6% in volume.

That's not to say all the classic chocolate products have run out of steam. Kraft's Cadburyland umbrella brand - which encompasses such childhood delights as Freddo, Fudge and Curly Wurly - is in fine health, with value and volume in double-digit growth. "The star performer is Cadbury Dairy Milk Freddo, which is in 25% growth [Nielsen 52 w/e 6 October 2012] driven by the fantastic success of its multipack format," says Williams.

Another children's favourite, Nestlé Milkybar, is also in double-digit growth in both value and volume terms, although the fact that the star performers of the range have been sharing bags and larger blocks suggests it might be older Milkybar Kids - rather than their offspring - who are driving the growth.

Leaving aside the big three chocolate confectioners, Nielsen data shows Thorntons has grown its value and volume in the supermarkets - although the company recently reported a drop in sales through its own shops in the three months to 6 October. It will be hoping for a better performance next year following the announcement that it is taking its Continental range - previously available only through its own stores - into other retailers, starting with Tesco this Christmas with boxed chocolates, an advent calendar and a chocolate tree.

Lindt Lindor, meanwhile, has dropped two places down the table despite modest value and volume growth. While not part of the Lindor sub-brand, Lindt recently expanded its range with the Creation chocolate bars in Luscious Caramel, Divine Hazelnut, Velvety Vanilla Almond and Sumptuous Almond flavours.
TOP LAUNCH 2012
Crispello Kraft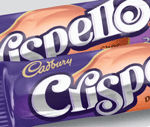 Kraft caused indignation among bloggers and commentators when it launched Crispello in October, as it launched its supposedly female-friendly countline. You'd have thought this was the first time a confectioner had targeted women - and that Kit Kat Senses and Twix Fino had never happened. The fact those lines have fallen by the wayside shows it's not an easy road to travel, but Kraft has already enjoyed success with a similar countline to Crispello outside the UK.