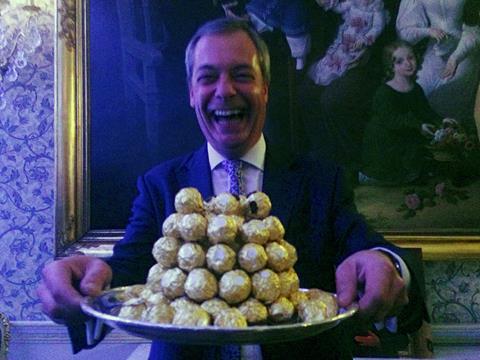 Ferrero has promised an exhaustive inquiry into claims Kinder Egg toys are being made by Romanian slave workers - including children as young as six.

The Italian confectionery giant - whose Kinder brand is once again the fastest growing chocolate brand in the UK, with sales up 26.7% to £123.6m [Nielsen 52 w/e 10 September] - said it was "appalled by the allegations of unacceptable practice" reported this week by The Sun, and had "launched an immediate investigation".

DIICOT, the Romanian government's cross-border directorate dedicated to fighting slavery and terrorism, has begun its own examination into the newspaper report, which claims poor families, including young children, were labouring 'at their ramshackle homes in poor hygiene' to assemble the plastic toys, with adults receiving the equivalent of 22p an hour for 13-hour days.

Ferrero's 37-page Code of Ethics strictly forbid use of child labour and require all employees be guaranteed at least the minimum wage (local or national).

Its suppliers were "subject to regular independent checks", it added, including its Romanian contractor Romexa and "approved" subcontractor Prolegis. Both were subject to regular independent inspection, the Kinder owner insisted, adding certification company SGS reported in May that these suppliers were strictly complying with the Ferrero code.
The situation was unprecedented given a product intended for children was being connected with child labour, claimed Jonathan Hemus, MD of crisis management agency Insignia. While he believed Ferrero had been unaware of the situation in Romania, he criticised the supplier for not clearly communicating a response on its website or social media channels.
Ferrero should accept full responsibility, added Robert Metcalfe, CEO of Richmond Towers Communications. "When you have a Code of Ethics on your website championing your requirement that suppliers do not use child labour, you look hypocritical as well as complacent," he said. "There is only one PR solution: put right what is wrong, fire the supplier, and confess, publicly and with maximum humility, to your mistakes."
Ferrero faced further embarrassment this week when a grinning Nigel Farage was pictured holding a pile of Ferrero Rocher chocolates at a function in London's Ritz hotel – a situation described by Metcalfe described as a "farrago" for the supplier.
UPDATE: Ferrero statement on child labor allegations in Romania [issued Friday 25 November]
Following the allegations made by the British newspaper The Sun, Ferrero immediately initiated a thorough investigation. While the investigation continues, no evidence of child labor has been found to date. However, inconsistencies with Ferrero policies and contracts have nevertheless surfaced.
Ferrero has therefore ordered the termination, with immediate effect, of any relationship with the subcontractor Prolegis in Romania. In order not to penalize legitimate workers who have nothing to do with this, Ferrero is ensuring that they will not be unfairly affected.
The allegations made by The Sun contradict Ferrero Group's strict quality, social and ethical requirements which all our contractual partners must comply with.
The involvement of children, no matter if directly or indirectly, is strictly forbidden to all suppliers in all parts of the production process. Every supplier must implement processes in order to verify the age of its staff, and must document this in its records. This is audited by SGS, who are the world's leading inspection, verification, testing and certification company. The last audit, in May 2016, confirmed that the Ferrero code was being strictly complied with.
The hygienic conditions described in The Sun article by no means correspond to Ferrero's strict quality regulations and standards. All our products are subject to the most stringent safety and quality checks before being marketed. These include regular internal and external controls of the hygienic standards.
The Kinder surprise eggs are filled, under proper hygienic conditions, by staff in the plants. The production of the egg (both the chocolate and the filled yellow capsule) are in particular checked with regards to any potential microbiological contamination every 2 hours. Our own laboratories perform these checks.