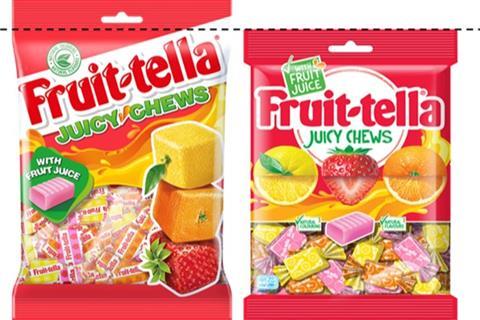 Fruittella has been given a makeover and slashed the plastic from its packs.
The confectionery brand has rolled out a new look across 30 SKUs in the UK (150 worldwide), which aims to showcase the brand's "varying high-quality ingredient credentials", it said.
Changes include swapping the fruit cube images to natural fruit images, which product manager Kate Howe said would "really show that Fruittella is, and always has been, rooted in fruit and naturalness".
Fruittella will also swap its traditional packaging material for a thinner one and condense pack sizes "without reducing portions".
"Environmental impact wasn't always considered in the way it is today and while there's always still more work to be done, we're committed to becoming a more sustainable supplier," said Howe.
The new packs, which will roll out from April, are projected to save 5.2 tonnes of plastic annually, as well as occupying 22 fewer shipping containers and reducing the brand's CO2 output by 15 tonnes.
They will feature an additional recycling symbol on pack for "clearer recycling messaging", it said.
The plastic reduction forms part of wider commitments by parent company Perfetti Van Melle to improve its environmental credientals. It follows the addition of 'remove and recycle' tear strips to its Mentos Pure Fresh Gum Bottles.