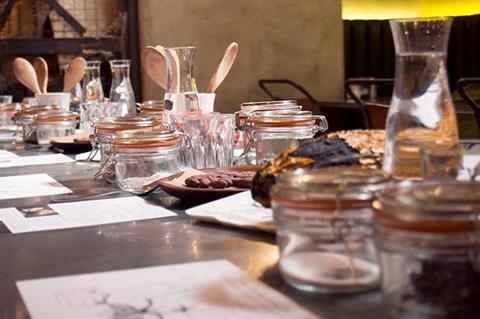 Hotel Chocolat is to host a series of vegan chocolate tasting events at 70 stores following the launch of its free-from range.

The luxury chocolatier will offer the after-hours lock-in sessions from 5 to 10 November. Each event will be 45 minutes with up to 10 guests having the opportunity to hear a short introduction about the brand before tasting the free-from items and learning about their origins and creation.

Tickets cost £10, which includes a glass of vegan-friendly wine upon arrival, chocolates to taste, and a 'mystery envelope'. The ticket price will also be reimbursed for customers who make any purchases during the event.

Hotel Chocolat's four-strong free-from selection is made up of 45% cocoa designed to be as creamy and mellow as milk chocolate, or 70% dark products that are rich and smooth. The lines, that have been around a year in the making, are free-from versions of its organic Bunnies (rsp: £8/100g) and Puddles (rsp: £6/115g).
"Hotel Chocolat wishes to appeal to customers of all chocolate tastes. The genres for our lock-in events are selected as they are key focuses for the brand, and represent pivotal moments during our campaigns," said a Hotel Chocolat spokeswoman. "Off the back of the success of last year's lock-in themes, which included genres ranging from Best Whites to Supermilk to Caramels, we are happy to say we will be visiting the vegan theme."