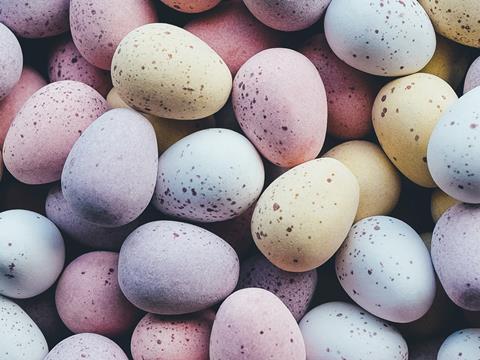 Mondelez has shrunk a swathe of Cadbury's Easter Egg SKUs to keep them "affordable" for British shoppers.

Cadbury Mini Eggs have taken the biggest hit: 90g bags have been replaced with 80g packs, representing an 11.1% drop in weight.

A number of shell egg SKUs have also been reduced, by about 7% - such as Cadbury's Crunchie Easter Egg and Large Creme Egg, shrunk from 278g to 258g; Cadbury's Heroes Easter Egg, which is down from 274g to 254g; and Cadbury's Twirl Easter Egg, reduced from 282g to 262g.

Mondelez has also shrunk Cadbury's Double Decker Shell Egg from 307g to 287g - a drop in weight of about 6.5%.
"Like all food manufacturers, we sometimes have to make changes to ensure that people can continue to buy their favourite Easter treats at affordable prices," said a Mondelez spokeswoman.

"We've worked hard to ensure we're still offering families great value for money across what we believe will be popular products this Easter."

Mondelez has reduced the rsps of the down-weighted products, but by a smaller margin.

The rsp for a bag of Cadbury Mini Eggs is 4.2% lower at £1.15, while rsps for the shell eggs have been cut by 4.2% - from £6.15 to £6.

"As always, retailers are free to set their own prices," the Mondelez spokeswoman stressed.

At the moment, shoppers are still paying £1 on average for a bag of Mini Eggs in the mults, although average supermarket prices for the Cadbury shell egg SKUs have fallen from £4 to £3 [Edge by Ascential 6 February 2019].

It follows another surge in cocoa prices in late 2018 amid fears El Niño and low prices paid to growers could threaten production in 2018/19, sending global stocks into a deficit. London cocoa futures peaked at £1,766 per tonne in late December, up from £1,496 per tonne in September.