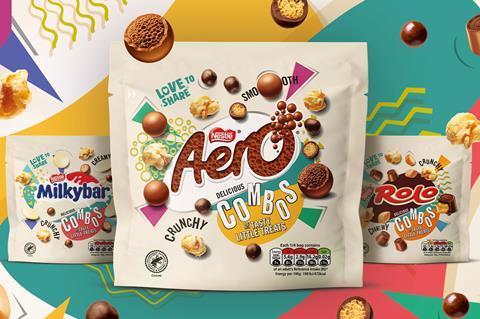 Nestlé has discontinued its confectionery-popcorn hybrid range Combos within its first year on the market, The Grocer can reveal.
The treats – which made their debut in July 2021 – combined Aero, Rolo and Milkybar with popcorn and other sweet snacks.
When approached by The Grocer, a spokeswoman for Nestlé said the fmcg giant had been "pleased with the performance of Combos, which was an innovative new product unlike anything we had tried before".
However, as Nestlé's "overall focus" remained on growing its core range, "we've taken the decision to withdraw Combos for now".
"You never know, they may be back in the future," she added.
Aero Combos comprised Aero bubbles and chocolate malt balls. Rolo Combos, meanwhile, contained Little Rolos and "melt-in-the-mouth" fudge bites. Finally, Milkybar Combos included Milkybar pieces and crunchy milk chocolate digestive balls.
Billed as "a delicious treat for any occasion", they were intended to tap sharing occasions such as "a night at the cinema with the family, or a picnic with friends".
Nestlé certainly hasn't put the brakes on NPD over recent months and has rolled out a slew of new flavours and formats.
In March, for example, it launched white chocolate Smarties to mark the brand's 85th birthday.
Earlier this year, it unveiled a swathe of launches for its Kit Kat, Aero and Rowntree's brands and teamed up with Baked by Rich's to launch confectionery-based cookies.