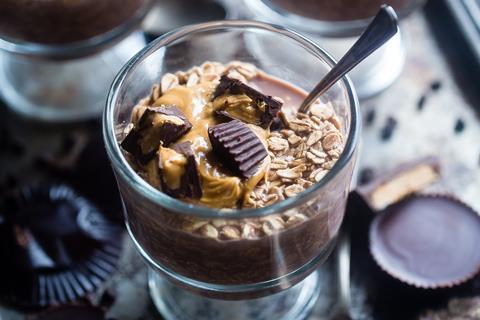 Chocolate was the fastest-growing product sector of 2019, putting on an extra £183.5m to smash through the £4bn ceiling. This growth was largely driven by innovations catering for food trends and an increased focus on wellbeing, and has well and truly set the stage for chocolate to become the wellness trend of 2020.
Once a discrete sector, wellness is now a core element of many brands. Global sales of wellness confectionery are set to grow at double the rate of traditional confectionery this year, according to Euromonitor. Opportunities are rife for brands, but success relies on a mindset change.
An enjoyable experience with high-quality, natural confectionery is no longer a guilty pleasure. Instead it's increasingly recognised as healthy. In our world of uncertainty where anxiety runs high, physical and mental wellbeing have become more desirable than ever before, and occasionally treating yourself is part of self-care.
Therefore, the new breed of wellness confectionery is not a pared-back, free-from offering. It's an indulgence, the new luxury. And a rising generation of entrepreneur has recognised this shift in consumer mindset and is delivering products to meet the demand. Look at Raw Halo. Ethically sourced, ethically made and ethically minded, each ingredient – from cacao to coconut sugar – is sourced from small, organic farms and traded for a fair price.
Its recent rebrand clearly aligns it within the wellness space, building on these ethical credentials and highlighting how it is kinder to your body and the planet. It's this view of health as our greatest wealth that is helping Raw Halo move into a more mainstream space. The question a growing number of corporate brands are asking is whether they can meet it there.
They certainly have some way to go. Mondelez launched its Dairy Milk 30% Less Sugar last summer, billing it the most significant innovation in the brand's history. But with its focus on guilt and on-pack disruptors, it is not going to reach consumers looking for premium chocolate experiences.
Others are taking a more functional approach, with the plethora of confectionery offerings based around protein. But function alone does not deliver love or loyalty.
The confectionery brands that will matter in the future will be those taking an authentic and holistic approach to wellness indulgence, talking body positivity rather than calorie reduction. Pip & Nut, for example, has been able to successfully launch Nut Butter Cups having carefully built a platform as a positive lifestyle brand.
For Pip & Nut and Raw Halo to do this is one thing. For corporates like Mondelez and Mars it will require a profound and large-scale shift in mindset to emulate their success. But for those who do achieve it, the emerging category of wellness confectionery presents significant opportunity.