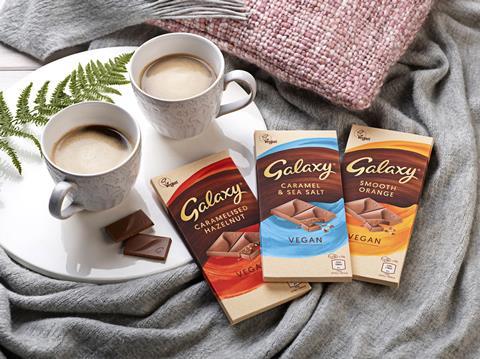 Amid a flurry of chocolate innovation over the past year, the vegan trend was front of suppliers' minds.
Nestlé, for instance, launched a plant-based Kit Kat called Kit Kat V, while Mars unveiled dairy-free versions of its Bounty and Topic. They joined Galaxy Vegan, launched in 2019 and expanded last year with Smooth Mint and Crumbled Cookie variants.
Challenger brands jumped on the vegan chocolate bandwagon, too.
Take Hip, a brand of oat milk chocolate launched earlier this year by James Cadbury, the great-great-great grandson of John Cadbury.
Growth in vegan products is being driven by its increasingly broad consumer appeal, he says. The original consumers of dairy-less chocs "were the people who are plant-based and vegan. However, now it's very much people who are not vegan and who have dairy as part of their diet, but they're just looking to reduce it," Cadbury adds.
As well as appealing to 'lifestyle' consumers, plant-based chocolate also meets the needs of those who can't eat dairy for health reasons. "Allergies are becoming more recognised in the UK and people are starting to act as they educate themselves on the effect certain foods may be having on them and the planet," explains Andrea Jessop, CEO of vegan chocolate brand Moo Free.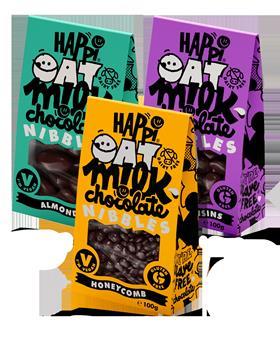 There are plenty of dietary needs for vegan chocolate brands to tap – and there are also myriad consumption occasions, says Gavin Cox, founder of Happi Free From.
"Seasonal and gifting will become a key category within vegan and plant-based chocolate as it is in traditional chocolate," he adds.
"We have an Advent calendar and selection box planned for Christmas 2021 and have extended our Easter range for 2022."
Cox believes vegan chocolate "is a long-term trend, not a short-term fad", adding "if good quality NPD is delivered, the growth for the category will be significant".
The end of big bang marketing? Confectionery category report 2021
1

2

3

4

5

6

7

8

Currently reading

Why vegan chocolate is more than a fleeting fad

9