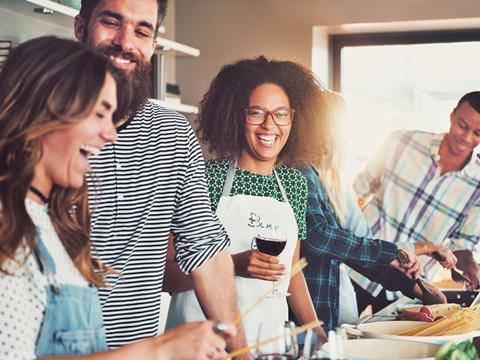 Were Napoleon alive today, he may be forced to eat his words. For Britain is no longer a nation of shopkeepers; it is a nation of foodies. In fact, our love of eating out could (dare we say it) give our French neighbours a run for their money.
The demise of the BHS Oxford Street branch is the perfect illustration of our change in mindset. In place of the now-defunct department store, London is set to get the biggest food hall in the UK. The 36,000 sq ft space – branded Market Hall West End – will feature 25 as-yet-unnamed restaurants, 10 food stalls, four bars, an event space and a demo kitchen. Run by restaurateur Simon Anderson, the name behind trendy Spitalfields barbecue restaurant Pitt Cue, the market is sure to be packed full of big foodie names. And there are plans for more iterations of this flagship project; Market Hall Fulham will open in Fulham Broadway Station in April, and Market Hall Victoria opens this summer on the former site of the Pacha nightclub there.
The new projects will have plenty of competition. London already has its fill of food halls including Bang Bang Oriental (serving a range of Asian cuisines such as Singaporean, Taiwanese and Malaysian), two Boxparks (with trendy fare such as vegan fast food) and Brixton Village and Granville Arcade, where customers can tuck into delicacies such as Japanese okonomiyaki pancakes. That a restaurateur believes there is still space in the market for three sizeable new food halls indicates the level of demand. Rather than shopping as a pastime, Brits are enjoying eating out and trying new cuisines.
Yet Michelin-starred chef Angela Hartnett had a point when she questioned our ability to call ourselves a "foodie nation" last week. We may be happy to dig into adventurous new cuisines in food markets, but cooking them is a different story altogether.
Despite the much talked-about rise in scratch cooking, the ready meals market is still growing at a healthy rate of 5% [Kantar Worldpanel value sales, 52 w/e 6 November 2017]. A survey for Co-op Food this week revealed we spend an average of 24 minutes cooking dinner, which we typically wolf down in front of the TV in just over 20 minutes. However much we like the idea of spending hours slaving over the stove for a family gathering at the table, it is a far cry from reality (especially considering 20% of us don't even own a dining table).
All of which could play into the hands of the food and drink industry. Our desire for a shortcut to culinary adventure means we're looking for quick and easy ways to try out new flavours at home. The figures prove the theory. Adventurous ready meals are in growth (Japanese, Vietnamese and Malaysian are up 86% in value) as are sales of harissa, Thai curry paste and the like. If the industry can innovate effectively, it can tap into our true national identity: one that likes eating without the effort.