This article is part of our Franchise & Fascia Groups Report 2015.
C-store operators are developing a coffee habit. Self service coffee machines have become the latest must-have item for convenience retailers trying to compete in today's competitive environment.
No prizes for guessing why. "Convenience plus coffee equals cash," says Clive Sheppard, director of the Chartman Group, which operates nine Spar stores in the south west. "C-stores have a unique opportunity to offer people the coffee they want, when and where they want it."
So what are the options for retailers looking to expand into coffee? And what are the advantages of each?
The market is dominated by Costa, Tchibo and Nescafé. Costa claims market leadership, with around 500 c-stores and 2,500 forecourts currently operating Costa Express machines. These are available on a revenue share basis, meaning the brand foots the cost of installation and then takes a cut of the machine's sales.
"This means it is effectively risk free for retailers, with essentially no capital outlay for the machine itself," says Murray McGowan, Costa Express MD."Given the strength of the Costa brand, the quality of the Express experience and the fantastic end product, Costa is confident that it can outperform any competing offer available on the market today."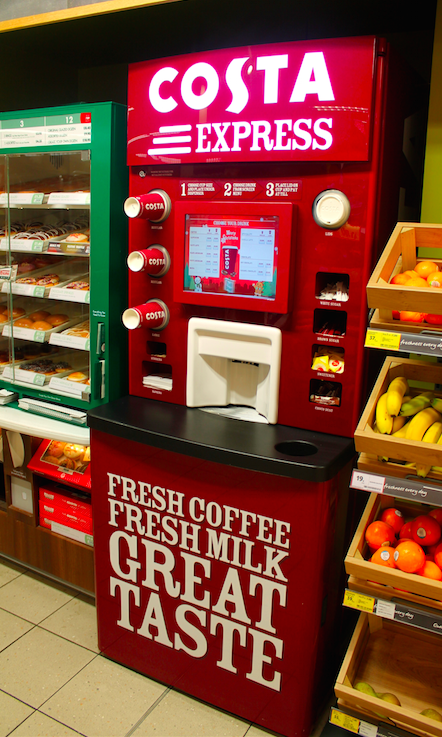 Depending on the area, suggests One Stop franchise director Andrew King. "The brands we have available are based on catering for different types of affluence amongst consumers. So we have Costa for high affluence, Tchibo for mid affluence and Nescafe for lower affluence areas," says King. "As a halo purchase, coffee brings incremental growth to sales and also benefits from higher than average margins."
Indeed, Nescafé & Go promises to add more than £6,000 a year of extra business to retailers that adopt the system, offering an integrated water heater and merchandiser, which can store up to 60 servings at once. Tchibo, meanwhile, offers a no obligation free trial of its Tchibo To Go machine for the first month to entice retailers.
"There is no investment, the first month is a completely free of charge trial and the retailer keeps all the revenue that month," says Peter Brooks, Tchibo head of concepts. "Therefore the retailer instantly makes profit and as long as an average of at least 15 cups per day is maintained it will continue to be profitable. At 30 plus cups a day the retailer share is 50%."
David Wyatt, owner of Sharpthorne Costcutter, is doing just that. "Overall year on year our total shop sales up 6%, part of this is due to the extra customers visiting our store for coffee and additional products," says Wyatt, who has also added UPS collection and drop off, a post office and other services to enhance is offering.
Wyatt doesn't operate exclusively with Tchibo though. His Shell forecourt in Crawleydown uses a Black & White coffee machine with the beans and cups supplied by Starbucks, under the Seattle's Best brand. Wyatt approached Starbucks having experienced reliability issues with other machines and service response times, and as a consequence invested in a Black & White machine serviced by United Coffee.
"Servicing and response times to breakdowns is really important in this industry. If the machine is constantly out of order our customers would shop elsewhere," he adds. "As a result of owning our own machine and buying the beans and all consumables we are not sharing our profits with a third party. This allows us to sell a 16oz cup at a very competitive price and still earn a very healthy profit."
Sheppard, meanwhile, prefers having a better known brand in his stores. "We invested in Costa in order to increase footfall through what is a proven model," he says. "We found two machines [in one store] were not enough and have installed a third. Three machines won't always be in use together, but the extra machine gives customers confidence that they can get their drinks in good time, even in peak periods."
Three machines equals around 300 cups of coffee a day, adds Sheppard. Of course that in turn equals a significant amount of cash.