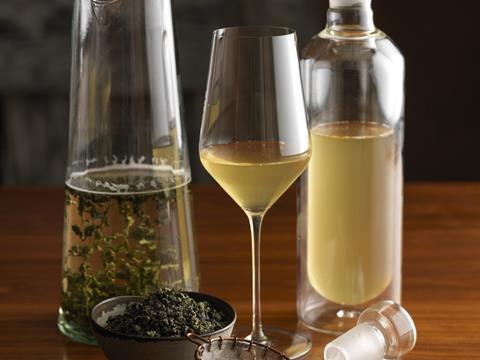 Would you pay £18 for a brew? This might sound insane, but posh Brits – and clean-living businessmen – are supposedly lapping it up after Claridge's introduced four new super-premium teas to the menu of its Fera restaurant.
It's undeniably pricey. Especially when tea bought from a supermarket comes in around 2p a cup. That's roughly a 90,000% markup.
Granted, we're not talking about bog standard PG Tips here. Take the Gyokuroesque, for example. From Aichi in Japan, the tea is kept in the shade for 10 days before being lightly steamed.
Whether any tea is actually worth paying that much for is up for debate, but what's truly interesting about these new super-premium brews is the way they're served – at room temperature in a wine glass and paired with food.
£18 for cold tea? Outrageous. But hang on, they could be on to something. Indeed, experts claim tea can be appreciated in the same way as wine, thanks to the complexity, body and tannins found in it. Just ask Tetley's top tea expert for proof.
Brits are unlikely to pay top prices for a posh brew bought from the likes of Tesco, but the Claridge's proposition does offer food for thought in the cooling tea category whose sales fell £22.7m [Nielsen 52 w/e 8 October 2016].
For example, iced tea is huge in Japan and the US, but not so much over here. It'd take a brave hot drinks brand to step out of their comfort zone and offer an RTE drink, but with the right proposition it could work. Or what about as a cool, hipster cocktail mixer? Could gin & tea be the new G&T? Mixers and adult soft drinks are hot property right now. Tea bags designed for this purpose would certainly offer some excitement in the hot beverages aisles.
A smart piece of NPD or some cute branding by the right brand could brew up growth. How about true special editions? Posh tea is all very well, but giving consumers a real connection to something they already hold dear pays dividends. For example, Studio Ghibli, the creators behind My Neighbour Totoro, sells tea from the real-life forest where the film is set for $13.50 a tin.
Niche, but definitely nice.