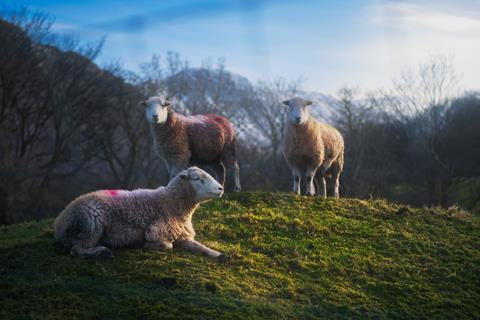 Consumers are more trusting of the food sector as a result of its response to the pandemic, according to new academic research shared with The Grocer.
Farmers and food retailers have enjoyed the biggest rise in their levels of public trust since the start of the crisis, the University of Reading project found, seeing them become "the most trusted actors in the UK food supply chain".
The research surveyed hundreds of consumers to measure their trust in various parts of the industry on an index. Farmers' and supermarkets' work to keep shelves stocked through the pandemic saw their public perception soar, the European Institute of Innovation and Technology funded research found.
"Faced with what could have been a damaging period for the food industry, the way different companies and parts of the system have managed to continue to deliver food to the shelves and people's plates has done a lot to engender trust," said project lead Professor Richard Bennett from the University of Reading.
Trust in food manufacturers, caterers and restaurants remained, on average, the same as before Covid. Food authorities were the least trusted part of the sector.
"It's not surprising to see food retailers have also improved their levels of trust in 2020. As the global pandemic led to panic buying and stockpiling, retailers responded quickly and fairly to ensure essential items were available as much as possible," he added.
The findings are supported by separate research from Dunnhumby and YouGov. A Dunnhumby survey this month found 58% of UK shoppers say supermarkets are doing a good job dealing with the virus. Meanwhile, YouGov's approval tracker, based on around 2,000 monthly responses, shows before the pandemic less than half (46%) of Brits thought somewhat or very favourably about supermarkets. As of November, 59% do.
"In a year when grocery retail has played a key role in the community it should be no surprise retailers who put the safety of their customers and colleagues first are those that win trust and loyalty," said Dunnhumby global head of retail David Clements.
The rising appreciation and trust in the food sector comes as faith in government continues to decline. Dunnhumby found only 20% of Brits believe the government has handled the crisis well.
Having enjoyed a significant uplift in public approval after announcing the initial lockdown in the UK, support for the PM and the government has fallen ever since. Half of Brits disapprove of the government (with 28% in approval), while 58% believe Boris Johnson is doing "badly" in the job (34% currently believe he is doing well).
As part of the University of Reading research, consumers were also asked how the industry could continue to build public trust.
"Consumers are telling us key aspects of that trust come from an ethical approach. Animal welfare, reducing food waste, fairness in pricing and honest labelling were seen as the key improvements that different parts of the sector should be focusing on," Bennett explained.