The 2023 edition of Anuga, the biennial food industry trade show in Cologne, was a truly global event. Over 7,800 exhibitors representing 118 countries displayed their wares in the exhibition, which ran from 7 to 11 October.
The Brand Nursery is a regular visitor to Anuga – it's a rich source of new food and drink product ideas, and the perfect environment to spot and seek out new and emerging trends.
Here are our thoughts and observations on the key themes from this year's show, as well as five eye-catching new ideas we saw
1. Sustainability partners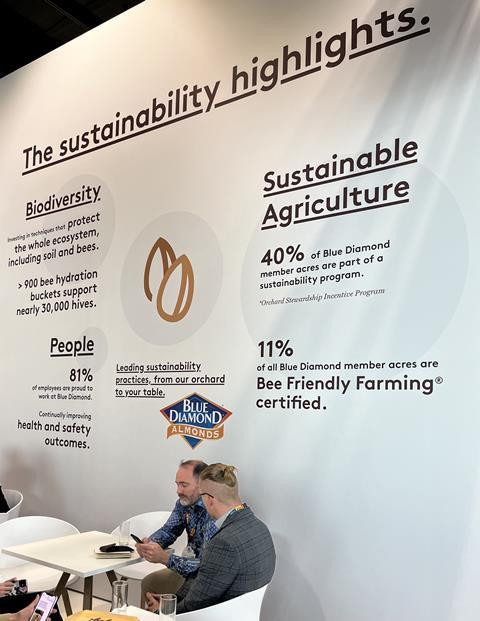 One of the key roles of Anuga is to bring together ingredients producers with food manufacturers. That came through in the 2023 show, which was home to countless examples of producers promoting their sustainable credentials to potential partners.
There was clear recognition that responsible sourcing of core ingredients is now a major focus throughout the food chain. Manufacturers, brand owners, retailers and consumers are all seeking out 'virtuousness' in every step of the process. So it was no surprise to see so many suppliers emphasising the ways in which they are delivering this through their messaging.
Perhaps Henry Lamotte Foods from Germany summed this up best with its claim to provide "the right ingredients for a sustainable future".
2. Unexpected flavours
Across the show halls we saw plenty of examples of brands and producers introducing flavours to their range that were new to that particular sector in an attempt to offer something new, different, and occasionally a little challenging.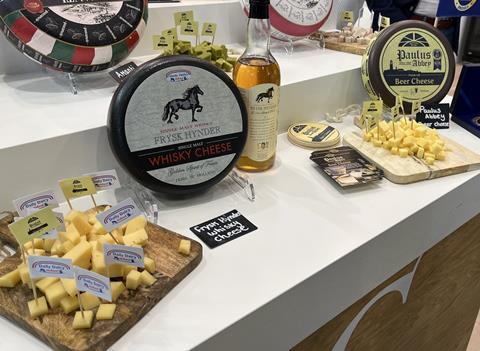 Cheese infused with coffee and whisky was a good example, and omelette -lavoured popped savoury crisps were a surprise too. We were pleased to discover the Hendo's range of spicy snacks too.
3. Bad made better
Another theme of the event was challenging perceptions of unhealthy or 'bad' products by addressing and countering these negative associations.
At a simple level, this could be by reducing fat or sugar content. There were lots of examples of reduced sugar or 'sugar free' offerings – particularly in baked goods, ice cream and cold beverages.
But there were others who sought to go further, like Lambertz, whose range of 'IQookies' are organic and high in fibre. Plus, they contain linseed, which the supplier claims aids brain function – making them a "clever way to enjoy biscuits".
Then there's Thrive, from Belgium, which has created a beer that "makes you better". It is alcohol-free, contains vitamins and packs protein to aid the body's recovery from exercise. The perfect 'first pint' after rigorous sport!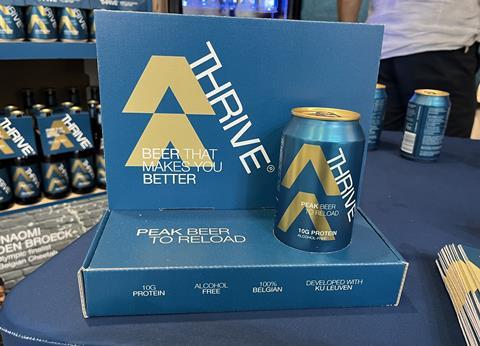 4. Protein plus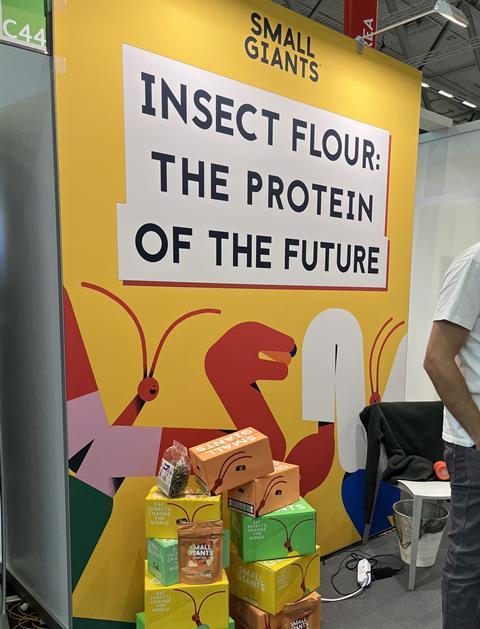 Many products at the show drew attention to their protein content on labelling. The trend spanned a wide range of goods, including some where protein content wouldn't necessarily be expected, like in muffins, water or savoury snacks.
Protein content from unusual sources, such as insect flour, was also highlighted in several halls.
But the most compelling examples combined high levels of protein content with other benefits to make a more rounded 'healthier' story. Like Eatlean from Cheshire, whose cheeses contain high levels of protein but are also low in fat, and produce a product that worked particularly well when melted on a pizza.
5. Not
fish
Plant-based alternatives to meat and dairy products were out in force at Anuga, but the most dynamic area of innovation was fish alternatives.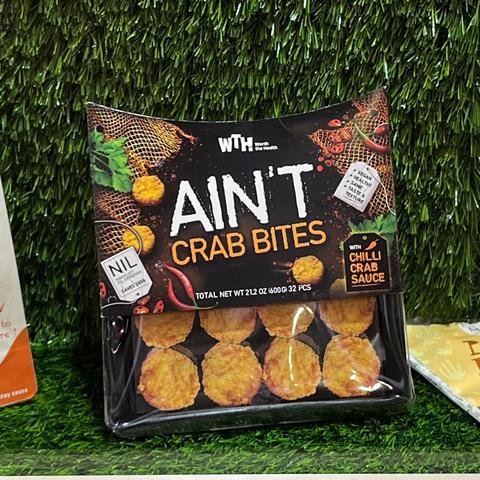 There were several award-winning tuna and crab imitations on display, delivering impressive product quality. Ordinary Seafoods from Germany has a range of canned salmon, tuna and shrimp alternatives made from pea and soy that were particularly convincing replicas of their fish-based counterparts.
Five eye-catching products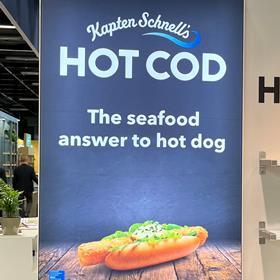 Kapten Schnell's Hot Cod
OK, it's basically an elongated fish finger, but there's something oddly compelling about this idea to provide a fish-based rival to the hot dog. My wife thinks it should be called a 'fish dog', and that it's just a gimmick, but sometimes the simplest ideas are the best ones!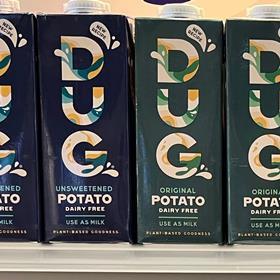 Dug
Dug is a Swedish potato-based milk alternative brand that has significant sustainability benefits over oat and almond-based competitors, and delivers a rich, creamy taste and texture. It is finding business-to-business success as an ingredient for ready meals and curries, and its Barista product is highly rated by consumers.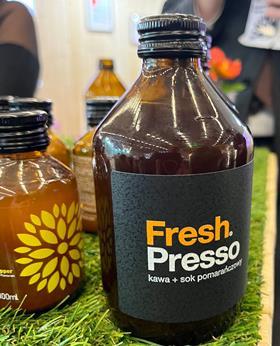 Fresh.Presso
A slightly convoluted name that seeks to capture what this product is: a combination of fresh orange juice and expresso coffee in a single serving. Not quite sure why you need to put both these elements into one, but the taste delivery was curiously effective.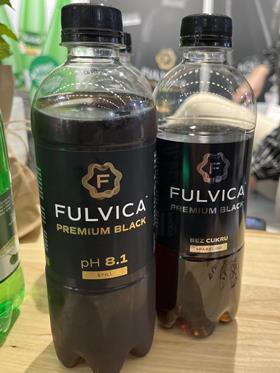 Fulvica
This is natural mineral water from Cyprus that is made black by the leonardite deposits of plant matter in the area from which it is sourced. The fulvic and humic acids it contains, and its alkaline nature, make it good for the body and it is also claimed to have weight loss properties. And it's black, so you notice it!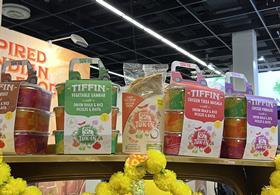 Tuk In Tiffin
Tuk In Foods from Leicester has created a beautifully packaged range of Indian meal combinations in the style of tiffin boxes. Striking and impactful on shelf, if they taste as good as they look, we're in!