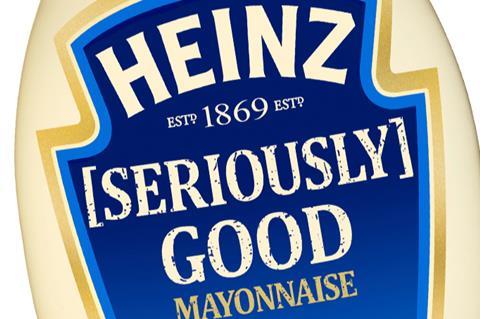 Mayonnaise leader Hellmann's is facing increased pressure from Heinz, which has enjoyed a near 25% value increase in its mayo sales.

Just three years after its launch, Heinz Seriously Good Mayonnaise has become worth £25.1m in grocery, having shot up 23.9%, according to Nielsen data compiled exclusively for The Grocer.

That makes the brand worth almost as much as the own label mayo market, which stood at £26.8m for the 52 weeks ending 13 July 2019.

Heinz is still well behind Hellmann's, which grew 0.7% to £92.9m over the same period - but that growth was down purely to higher-priced items. Volume sales of Hellmann's fell 4.4%.

Kantar said Heinz Seriously Good had managed to swipe further shoppers from Hellmann's with activity such as its June 'Heinz Makes it Better' TV campaign.

The brand now reached more than 4.7 million households, with 16.4% share of the mayo market, Heinz claimed.

"The launch of Seriously Good Mayonnaise has been genuinely category disrupting," said Lucy Cooke, junior brand manager at Heinz Sauces.
However, Hellmann's has fought back with innovation. Its vegan mayo has amassed £1.2m since launch last September, Nielsen figures show. That made it the bestselling sauce innovation of the past year, accounting for 32% of all NPD sales.
Hellmann's also launched a four-strong range of luxury mayos into Waitrose in July, including new flavours such as truffle and aioli.

"Hellmann's is the UK's favourite mayonnaise with a 57.2% share and, since its launch last year, Hellmann's Vegan Mayo is driving significant incrementality to the category," said a Unilever spokeswoman.

A rapid rate of innovation made mayo the UK's fastest-growing sauce of the past year overall. Sales of the creamy condiment shot up £16m to £171.1m, according to Kantar data for the year ending 19 May 2019. Branded accounted for £12.8m of that growth.

Flavours emerged as an area of success for mayo. With Nando's sauces having shot up 20% to £22m in the past year [Nielsen], the brand pointed to its Peri-Peri mayos as a driving force behind that growth. They grew a whopping 53.2% to more than £8m.