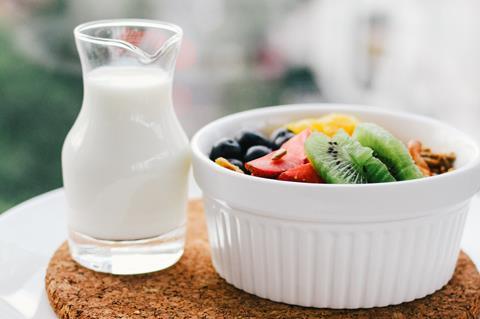 Veganuary is shaping up to be bigger than ever, and brands continue to fight for a bite of the trend that won't quit with a never-ending conveyor belt of new products launched.
For vegan newbies one of the first easy switches is a plant-based milk alternative. Nearly a quarter of Britons now consume plant-based milk and there's plenty to choose from.
It's not just the environmentally conscious that will be scanning the shelves for something different to pour over their Weetabix this Veganuary. When the documentary The Game Changers came out last year it caused a stir among a younger, health-conscious audience. Known for seeking products which boast high protein credentials (globally, one in four people are trying to consume protein in abundance), the documentary shocked millennials and gen Z into realising they might be able to fulfil their protein needs through plant-based choices.
But while there are many good reasons to cut back on animal products or avoid them completely, are consumers forgetting to keep an eye on the white stuff in their haste to embrace Veganuary?
With a 4% sugar content, cow's milk has a naturally sweet taste. If you make milk out of rice, somewhat unsurprisingly, it tastes of rice. Milk alternatives and other beverages fortified with whey or pea protein, meanwhile, have a characteristic protein aftertaste that most consumers find unpalatable.
As a result, some plant-based options have traditionally been sweetened. As consumers take a first tentative step into a dairy-free world, a familiar look, feel and, critically, taste from their alternative is likely to be extremely important.
With sugar content slightly below the levels currently subject to the sugar levy, plant-based milks are certainly not the big bad sugar baddies of the beverage world. But, for the health-conscious budding vegan, they may find themselves at the mercy of an unwanted sugar-hit when faced with confusing 'no added' or 'low sugar' claims that don't always give the full picture.
Savvy brands understand the increasingly diverse audience consuming vegan products, and many have sought alternative ways to sweeten a naturally savoury food source to ensure health and flavour can still go hand in hand. However, the fact remains that there are still plenty of milk alternatives with surprising levels of 'hidden' sugars.
Before Christmas, campaign group Action on Sugar made calls for the government to ensure the sugar levy is extended to include milk alternative-based drinks in a piece on the high sugar levels in the major coffee chains' festive offerings.
Nearly half (49%) of consumers are concerned about the level of sugar in food, an FSA survey found last year. So as we enter the season of wellbeing, the industry must collectively support well-meaning consumers with their ambitions to save the planet as well as their health through responsible attitudes to sugar use in drinks.