CBD could be the future. With a wide range of reported health benefits, attitudes are shifting around this once little-known extract of the cannabis plant
Cannabis often hits the headlines. Usually for the wrong reasons. But that wasn't the case in 2018 when 12-year-old Billy Caldwell had his cannabis oil seized at Heathrow airport after attempting to bring it into the UK. Caldwell needed the oil to help manage the symptoms of his severe epilepsy. The public was outraged on his behalf and, in the months that followed, he and mother Charlotte leveraged that outrage to campaign for a change in the law. As of 1 November last year, medicinal cannabis (which contains the same psychoactive compound, THC, as the recreational drug) became available via prescription.

The breakthrough reflected a huge shift in attitudes towards the drug. A survey in October revealed that 59% of the British public now support its legalisation for non-medical use too. Ten years ago it was half that. And this new openness has filtered down to other derivatives of the cannabis (or hemp) plant too.

"We are at the beginning of a seismic shift in respect of this plant on a global scale," believes Simon Manthorpe, CEO of Eos Scientific. One of the biggest beneficiaries of which could be CBD.

CBD, or cannabidiol, is an extract of the plant that contains next to no THC (less than 1mg) and is entirely legal to sell and consume. It's also rapidly gaining traction here in the UK.
"Along came vaping and you could consume CBD products with strawberry or vanilla custard flavouring"

Early last year, the Cannabis Trades Association (CTA) said the number of those using CBD in the UK had doubled to 250,000 from 125,000 the year before. That figure is now likely to have grown to at least half a million, its compliance officer Guy Coxall believes. "When we started the CTA in 2017, we had seven founding members. Now, we have over 700. That's how much the industry has grown."

Grocery is a huge part of that burgeoning industry. Snack brand Kind predicted that 2019 would be the year the cannabis extract really 'makes its way into the food and beverage industries'. Recent launches have included the UK's first carbonated soft drink infused with CBD, beers brewed with cannabidiol and CBD mints. Even the likes of Coca-Cola are taking note, with the soft drinks giant revealing in September it was "closely watching the growth" of CBD "as an ingredient in functional wellness beverages".
So, why is CBD generating all this hype? In which categories does it have the greatest potential? And what are the obstacles that could stand in the way of its growth?

Though CBD products are unable to make medical claims in the UK, the supposed health benefits of the extract are vast. Last year, King's College London revealed CBD could reduce abnormal brain activity, with the potential to help those suffering from psychotic disorders.

That followed a 2017 report from the World Health Organization that found it could help manage anxiety and depression, as well as symptoms for a number of other illnesses including Alzheimer's and multiple sclerosis. Improvements to nausea, seizures and sleeping are among the many other reported effects.

This long list of benefits is only set to get longer as the relaxation in attitudes towards the cannabis plant as a whole spurs further studies all the time, says Coxall.

'Flying off the shelves'

Against this backdrop it was perhaps unsurprising that a health store, Holland & Barrett, was one of the first UK retailers to begin stocking CBD oil in early 2018. And it was soon flying off the shelves. By mid-February, the health retailer said sales had leapt 37% over the four weeks prior.

"People who would quite comfortably go to Holland & Barrett to buy vitamins suddenly had a cannabinoid product presented to them by a major retailer," says Manthorpe. "That carries some weight. Lots of people were then self-medicating for conditions they would rather not take a traditional western drug for. That's been an enormous part of CBD's increased popularity."

Eyeing a new delivery method for CBD, the e-cigarette industry also snapped up the ingredient. "There were already companies selling hemp, oils and extracts, but they were a bit earthy and not necessarily nice-tasting," says Manthorpe. "Along came vaping and you could consume CBD products with strawberry or vanilla custard flavouring. A huge number of SME e-cigarette brands and retailers then started offering CBD products. This led to a huge uptake."

That was the starting point for Serge Davies, CEO of CBD-infused soft drink brand Green Monkey to broaden his horizons. He began by producing a CBD e-liquid after it became "quite prolific" in the industry. "We came to the realisation there weren't any viable delivery mechanisms for people who didn't vape. That led us to produce CBD products for the pharmacy sector in the UK, such as drops, sprays, capsules and balms, to make it more available to the wider market."

That adaptability is why Manthorpe believes CBD has even more potential to grow than the e-cigarette market (which is now worth upwards of £184m, according to Nielsen). "CBD doesn't have the same barrier as e-cigarettes. It doesn't only appeal to those who consume nicotine or to those who have consumed cannabis."

These origins in vaping have meant that, as CBD has shifted into food and drink, many products are still sold via vape stores rather than traditional high street retailers. Take The Marshmallowist.

Its gourmet marshmallows flavoured with cannabis, grapefruit and pink peppercorn were sold exclusively through The Great British Vape Shop as a limited edition. But director Jenny Simms says they have been the brand's "biggest seller" in 2018 and will now become a permanent fixture. "We're having packaging designed for them currently to be part of our core range and we have a really exciting nationwide listing to be confirmed for spring. It's done really well for us."

In foodservice the likes of vegan restaurant By Chloe also chose sweet treats to trial a CBD-infused dessert menu in late 2018. Puddings such as a Chocolatey Leafy Browney and Rainbowey Cookey Sammie were sold alongside a CBD-infused peanut butter bone for dogs.

These 'edibles,' or foods containing CBD, are already popular in the US, says Tim Moxey, founder of Mr Moxey's Mints, a US brand now selling its CBD mints in the UK. "CBD extract wouldn't win flavour of the month, it's very bitter-tasting," he adds. "The trick is to make products that are consumer ready, such as our mints. You try the product and it tastes good so you get the CBD without the weird taste."

He compares the flexibility of CBD to protein. "Protein can go into lots of products like chocolate bars and CBD is the same. For instance, for consumers who prefer to get added benefits from a drink, CBD can go in that form."

It's an approach already being trialled by UK brands. In September, Botanic Lab launched what it claims is the UK's first CBD-infused soft drink, a Cannabidiol Botanical Tea. The brand says it provides "all the health benefits of the much-heralded CBD and [eases] the social anxiety that sometimes comes with the fast-paced social interactions we are all now engaged in".

Founder Rebekah Hall called the product "a ground-breaking drink" which incorporates "one of the most talked-about and culturally significant plant ingredients of the last 100 years". US brand Matcha Now has also unveiled a ready-to-drink tea combining matcha with CBD, which is set to launch in the UK this month.

Obstacles to overcome

These products are creating a brand new grocery category, believes Davies. "Over the next 12 to 24 months we're going to see a real explosion of CBD products, in the same way people take vitamins and supplements to improve their general wellbeing," says Manthorpe. "We'll see a lot of people utilising cannabinoid products for the same kind of purpose."

Exclusive research for The Grocer, carried out by Harris Interactive, shows there's certainly an appetite for it with 38% agreeing it's 'great' that CBD products are available from high street stores.

However, there are obstacles for this emerging industry to overcome. "Whilst there seems to be some positive feelings towards CBD products, only a third say they would buy a CBD product in the future," says Lucia Juliano, head of fmcg and retail research at Harris Interactive. Confusion could be one factor, she believes.

"Whilst over 40% claim they know what is meant by CBD, over a third of these believe CBD is psychoactive and a further one in six are not sure," she says. "With CBD products already being sold in the UK, it's important that manufacturers, brands and retailers are clear on the features and details of their products."

Manthorpe agrees there needs to be more education on the difference between CBD and what he terms "street cannabis", the illegal class B drug. "Street cannabis in the UK has been bred for maximum THC and minimum CBD. There's no balance and this is why there are genuine concerns around mental health and young people using this when their brains are not fully formed. We have to find a way of separating this from CBD. This comes down to education, informing the public that CBD products will not get you high and that they will actually improve your general wellbeing."

The law, which paradoxically still prevents CBD from being produced in the UK, does little to clear up the confusion, says Coxall. "CBD cannot be produced from the plant in the UK. The licence you get from the Home Office for growing hemp stipulates you have to destroy the flowers and leaves on site, so there is no way of extracting cannabinoids at present. This is because the flowers and leaves are classed as controlled parts of the plant in the Misuse of Drugs Act 1971, which seems a bit odd considering the plant is non-psychoactive."

As a result of these "draconian rules", brands are still having to import CBD from other countries where producers are able to extract cannabinoids from the flowers and leaves, says Peter Reynolds, founder of campaign group Clear, which seeks reform of the law. "It's completely stupid. The Home Office will not give you a licence to grow industrial hemp if you say you want to use it to extract oils or make CBD, but it's entirely legal to import CBD oil produced from industrial hemp in other countries.

"The CBD market in the UK is already worth £50m-£100m, and that has really exploded in the last two to three years. There are CBD shops in almost every town now. Even Boots and Sainsbury's are starting to sell CBD products, but all the CBD in these comes from overseas because our Home Office won't allow British farmers to grow it. So, the entire CBD industry in the UK is based on industrial hemp grown in other countries."

It's a legal paradox, agrees Freddie Fellowes, whose licence to grow industrial hemp - with a THC content not exceeding 0.2% - was granted last summer. Along with his father, the fourth Lord de Ramsey, Fellowes will be growing test crops this spring on the family's 6,500-acre estate in Cambridgeshire. But for these crops to be as commercially viable as possible, Fellowes says industrial hemp growers should be able to use the whole of the plant. "We want to be able to produce a profitable cash crop and support associated industries. It could stimulate a huge amount of the rural economy.

"The law dramatically alters the viability of industrial hemp being grown. The government is limiting the commercial opportunities for farmers in the UK."

Licences can be obtained from the Home Office to produce controlled drugs, enabling the use of the flowers and leaves, but Fellowes says these are not being granted to anyone "unless they have incredibly good connections to the government".
"Protein can go into lots of products and CBD is the same. For consumers who prefer to get benefits from a drink, CBD can go into it"
In fact this sense that political interests are tied up with the production of CBD has been a long-running complaint of those lobbying for change. "There are no companies being granted a licence for the production of high THC cannabis other than GW Pharmaceuticals," says Reynolds.

"The factor you have to lay on top of this is that the husband of Victoria Atkins MP, the Home Office minister responsible for drugs, grows cannabis for GW Pharmaceuticals under licence in Norfolk."

Atkins' husband is Paul Kenward, the managing director of British Sugar, seemingly the only UK company granted a licence to grow plants from which to extract CBD. In this case, for use in children's epilepsy medicine. When this information was revealed by Clear in May 2018, Atkins stepped down from speaking on drugs policy, but the conspiracy theories don't stop there. Prime minister Theresa May's husband, Philip May, also works as a relationship manager for Capital Group, a subsidiary of which is the majority shareholder in GW Pharmaceuticals.

"Two women who control drugs policy and control the issue of licences are not allowing licences to be issued to any other companies," he adds. "Their families personally gain financial benefits from this policy."

A spokeswoman from the Home Office told The Grocer that "people may choose to apply for a licence in order to use controlled parts of the plant to produce cannabis oil, but licences would only be granted where the products can lawfully be made available to the public".

As far as Fellowes and Reynolds are concerned, it's high time the Home Office reviewed the industrial hemp licence to include use of the flowers and leaves so as to allow other companies to benefit from the lucrative opportunities provided by CBD.

In fact, Fellowes pointed out the paradox to Michael Gove at the Country Land & Business Association conference last year. The minister said he would look into the "anomaly" and added, "I know this is potentially a treacherous area for politicians to get into but you have pointed out an inequity which deserves to be addressed."

Coxall is hopeful that "if the UN reclassifies cannabis in March", downgrading its status as "one of the most dangerous drugs", the Home Office might be persuaded to change its stance to tie in with the rest of the world and allow production of the whole plant. Especially with Brexit around the corner."

Doing so wouldn't only benefit UK farmers. An end to the requirement to source CBD from outside the UK would also be "beneficial for the manufacturer", insists Janine Marshall, founder of Matcha Now, allowing them to "avoid costly export channels and reducing the product price to our customers". Ultimately giving the green light for CBD to grow to its full potential. How brands are benefiting from legalisation too

It isn't only CBD that is creating new opportunities for food and drink brands in North America, following a recent spate of success for pro-legalisation campaigners.

In September it emerged that Coca-Cola was in talks with a Canadian marijuana producer to produce a range of cannabis-infused soft drinks designed to ease pain.

At the same time, brewing giant AB InBev is working with Canadian company Tilray to explore non-alcoholic, cannabis-infused drinks, with both parties investing $50m into the research. And Marlboro maker Altria is investing a huge $1.8bn in Canadian cannabis firm Cronos.

The flurry of fmcg activity follows legalisation of the drug in Canada in October last year, after a campaign that saw supporters adapt the country's flag to feature a cannabis leaf rather than a maple leaf (see above). Demand was so high after the change in law that the country reportedly ran out just two days after the drug was made legal.

And it's a move others are looking to emulate. Already legal for medical use in 33 US states, and for recreational use in 10, the democratic governor of New York, Andrew Cuomo (pictured), is now pushing for recreational cannabis to be legalised in the city.

According to a recent report issued by its Department of Health, an estimated 1.3 million consumers would access the legal market in the first year if marijuana was legalised. As a result, it predicts the total state and local tax revenue during this period would be up to $677.7m. The report recommends legalising recreational marijuana in New York.

"In the last 12 months, perceptions have changed massively, says Serge Davies of Green Monkey. "The market is maturing in the US and perceptions are changing in the UK as a result."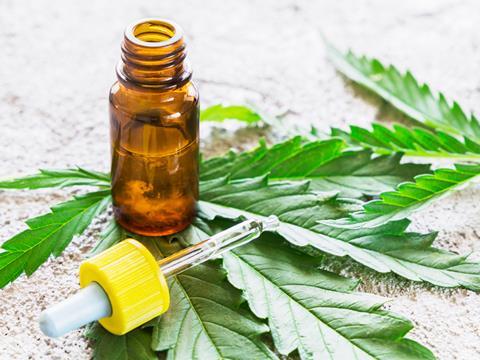 A quick guide to the cannabis plant
There are two species of the cannabis plant - indica and sativa. cannabis can be used for a number of different purposes, including the production of hemp fibre and marijuana.
Cannabidiol (CBD): CBD is one of more than 100 chemical compounds, or cannabinoids, found in the Cannabis sativa plant. In the UK, the source plant cannot contain more than 0.2% THC. Because of this, CBD is non-psychoactive.
Tetrahydrocannabinol (THC): THC, like CBD, is a cannabinoid but it is a psychoactive compound. CBD products must contain less than 1mg of THC to be legally sold in the UK.
Medicinal cannabis: UK doctors can now prescribe medicinal cannabis. It differs from the CBD products on sale because it often contains high levels of THC. As such, the NHS says it is only likely to be prescribed for certain conditions.
Hemp oil: Hemp is a member of the cannabis sativa family. While CBD is produced using the flowers and leaves of the plant, and sometimes the stalk, hemp oil is produced by pressing the seeds.
Marijuana: Like hemp, marijuana is a member of the cannabis sativa family. However, while hemp contains a low amount of THC around 0.2%, marijuana contains a high concentration - upwards of 15%. Marijuana is therefore psychoactive and is currently illegal to possess in the UK.