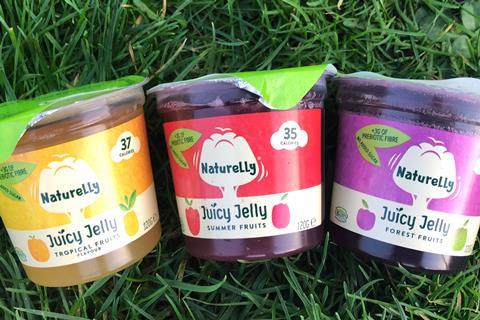 Children's dessert brand Naturelly has overhauled its Juicy Jelly range to tap the gut health craze.
Each 120g pot (rsp: 75p) now contains 3g of inulin, a dietary fibre made from chicory root. It acted as "a fertiliser for the good bacteria in the gut, supporting immunity, digestive health, bone density, weight management, brain health and more" said Naturelly.
Available now in Waitrose, Juicy Jelly comes in Summer Fruits, Tropical Fruits and Forest Fruits – all made with real fruit juice. Each provides less than 33kcals per 100g, with no added sugar or artificial sweeteners.
Their reformulation comes in response to an NHS warning that most children do not have enough fibre in their diet. Youngsters aged from two to 16 are advised to eat up to 25g of fibre per day.
"Fibre is the superfood that both British adults and children just aren't getting enough of," said Naturelly founder Dean Dempsey.
The brand's revamped jelly lineup was "a game-changer in the dessert category and is a brilliant way to enjoy something sweet by nature with nothing naughty added".
Naturelly's reformulation follows a glut of gut-focused NPD in grocery – Love Your Gut soup from Waitrose, startup Güt's prebiotic sparkling soft drinks, and Bio&Me granola by celebrity dietician and nutritionist Dr Megan Rossi.