Since 2010, The Brand Nursery has been visiting the Fancy Food Show, the annual showcase in New York for many of the world's most interesting and innovative food brands and manufacturers.
We returned again this year on the lookout for emerging new trends that might point the way towards future flavours, formats and sectors.
In among the familiar proliferation of healthier snacks, functional beverages, non-alcoholic drinks and plant-based alternatives, there was also an abundance of two of the product sectors we saw building last year: honey and hot sauces (sometimes, as with the wonderful Mike's Hot Honey, a combination of both!).
But we also spotted some emerging new trends. Here are our significant seven: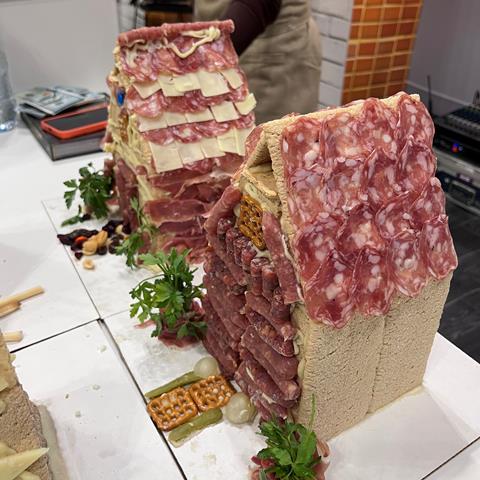 1. On board with charcuterie
Charcuterie boards have enjoyed a growth in popularity in recent times. As a consequence, there has been a notable increase in the number of exhibitors offering deli meats, specialist cheeses and all manner of crackers, breadsticks and relishes.
Much of what was on offer was targeted at the foodservice trade, to enable restaurant and bar owners to amplify their charcuterie board offerings. Often this was in the form of cheese flavoured either with inclusions or rubs.
Shaft's from California has a range of cheese wheels that mix blue cheese with other cheeses to create an artisanal offering that "celebrates all the big and small moments in life". Their olives stuffed with blue cheese were also a real delight.
We also spotted retail products designed for charcuterie home-dining like Chevoo, founded by a pair of Australian ex-pats in Alabama. They have a range of marinated goats cheeses hand-blended with herbs, spices, honey, or even pollens in an extra virgin olive oil that has been infused for eight weeks with crushed botanicals. These cubes help "elevate home-cooked meals into something special", the brand says.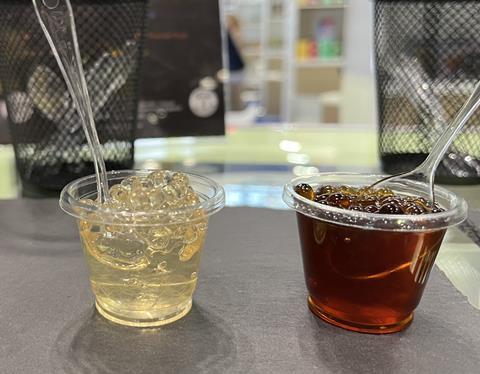 2. Flavour pearls
There was an abundance of caviar on display at the show this year, along with products that take the 'little pearls' format into completely new areas.
Caviarum is a Canadian business that has set out to replicate the taste and texture of caviar with manufactured products that are less expensive and can deliver flavours beyond the traditional sturgeon. Their products also have a much longer shelf-life than authentic caviar, and have found a ready market among chefs and caterers across North America. There's even a plant-based version, and all that we tasted were excellent.
Christine Le Tennier from France has a range of molecular gastronomy flavour pearls that offer opportunities for caterers to add a finishing touch of zinging, bursting flavour. They cover a spectrum of tastes from truffle to yuzu.
There were even confectionery pearls – The Sweet Snob is a British company that was showing a Candy Caviar range packed in the familiar caviar tin format.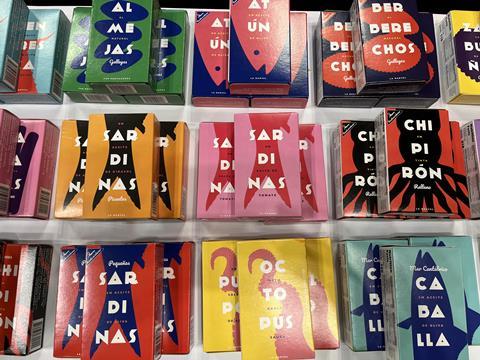 3. Updating fish
Canned fish is a familiar, traditional sector that we've seen some attempts to enliven in previous shows. This year, we saw more contemporary pack presentation that is clearly seeking to reinvigorate the market.
La Narval from northern Spain had a range of really striking, simple and 'instantly interesting' pack designs that are a step change from traditional canned fish. La Curiosa, another Spanish business, used a more illustrative approach, with quirky engaging twists, that was equally modern and enticing.
New York-based Krill Arctic Foods is updating canned fish in another way – by introducing krill meat into the human food chain. Krill has previously been viewed as something that only other fish consume, but its low calorie, high protein and omega-3 properties, along with its easy digestibility, means it delivers a powerhouse combination of health benefits for our bodies.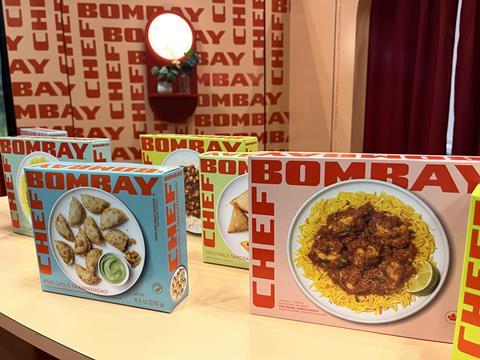 4. Indian for today
'Authentic global eating experiences' were identified as a key theme of this year's event by the SFA, which runs the Fancy Food Show. We certainly saw evidence of this, but are being a little more specific with our trend definition, we saw lots of evidence of a more contemporary approach to Indian cuisine.
For a British audience that already has Indian food as a regular part of our eating culture, some of these products may look less innovative than they evidently do to a US consumer. In America, there are still considerable barriers to home-cooking Indian food though, and there were plenty of products that sought to address that.
Inspired Indian from Chicago has created a range of small-batch spice kits containing powders and spice ingredients that make it simpler to cook delicious authentic restaurant-quality Indian food.
Arya is a New Jersey business that has a range of skillet-fired roti, infused with interesting flavours to fit the "modern Indian kitchen".
Then there's Spicewalla, which offers a vast range of authentic Indian spices in attractive, contemporary tin packs. Finally, Bombay Chef showed a selection of frozen, prepared Indian dishes in striking packaging for those who want a short-cut to tasty Indian food by bringing Indian flavours to familiar formats like butter chicken naanpanadas – their take on empanadas.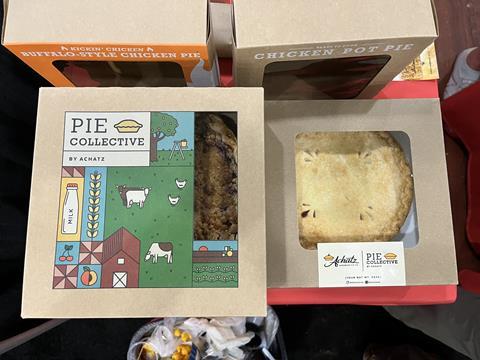 5. Stuffed or filled
Whether it was the familiar good old pie format, or more interesting and innovative ways to encase tasty flavours, there were a lot of products that stuffed or filled things to delight us – from Australian meat pies to Greek spanakopita, and plenty in between.
The Pie Collective from Michigan brings together a group of farmers and bakers to make a "new generation" of tasty, wholesome pies – traditional forms, but with real 'farm to fork' values.
Rösti Stuft Spuds has taken a traditional Swiss peasant food and created a range of frozen bite-sized, flavoured products that are perfect as an appetiser or for snacking. It has recently also introduced a range of Fondu Bites that cleverly encase fondue cheese in a crispy crust – both formats were delicious.
Holy Perogy offered a range of little savoury dumpling bites in eye-catching, vibrant packaging, while Kasia's from Chicago had both perogis and blintzes – little filled crepes – within a range that embraced sweet and savoury fillings.
And Dumpling Daughter has a range of authentic Chinese filled dumplings that take inspiration from the favourite recipes of the founder's grandmother.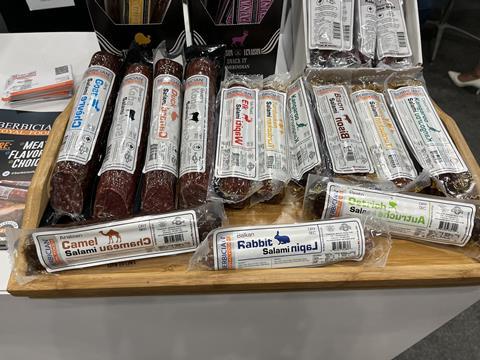 6. Big meat
We were struck by the number of show exhibitors offering meat products that came from rather larger animals than the usual cattle, lamb and pigs.
Berbician Royal Foods from Canada offer meat cuts, but also sausages and salami that use bison, elk and even camel as their prime ingredients.
Fossil Farms of New Jersey include bison, yak, antelope and alligator among their range of "all natural meats and farm-raised game".
We also came across a New York eatery close to Times Square called 'Dark Side Of The Moo', which promotes itself as "the wildest restaurant in New York" due to its use of meats such as alligator, bison and kangaroo.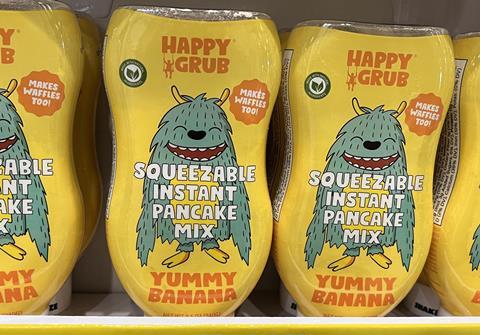 7. Show the joy
Much US food is promoted through on-pack claims of particular health properties, which attempt to make the simplest of products more worthy or virtuous. This can embrace anything from low sugar or salt, to higher protein content or suitability for keto diets.
This year we also noticed brands and products that seemed to be avoiding the dominance of rational claims, embracing instead the emotive joy.
Happy Grub is a Texas-based business that offers a range of squeezable instant pancake mixes designed to help parents and kids cook pancakes together. The name suggests fun is the key, and so does the pack design.
Meanwhile, Superbon crisps were created by a French Michelin-starred chef, but their packaging is far from snooty, instead suggesting a quirky sense of fun. Italy's San Carlo range has a similarly copy-free, joy-filled pack design that suggests their crisps are to be devoured, rather than thought about.
Henrietta Said from North Carolina also uses its packaging to evoke the sense of fun involved in its "scandalously spicy" peanuts.
There were also sweet treat brands, like Le Chocolate De Francais from Paris with their chocolate bars, and the aptly named Just The Fun Part of New Jersey, which has a range of chocolate filled mini waffle cones that echo the childhood memory of eating the last, tasty part of an ice cream cornet.


And five notable lines…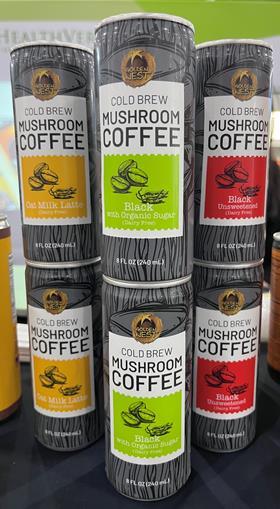 Cocktail bags: Sayso has created a range of cocktail mixer sachets, like tea bags. They are infused in water before adding the required spirit to simply create a tempting drink.
Audio lollipops: Amos is a Chinese confectionery business that has introduced a range of lollipops allowing the consumer to listen to music whilst licking the sweet (something to do with "bone conduction" that transmits sounds from teeth to ears).
Functional lollipops: Mommabear Organics offers homeopathic lollipops that claim to counter motion sickness and nausea, or help relieve cough or allergy symptoms
Mushroom coffee: We saw plenty of mushroom-based innovation last year. This time, mushrooms were finding their way into beverages, like RTD coffee cans. They are there to deliver health benefits, and although it seems an odd combination of flavours, it seemed to work.
Collettey's Bakes: Finally, a truly heart-warming brand story. Collette Divitto is a young lady from Massachussetts with Down's Syndrome who has a passion for baking. She tried to find employment within the food service industry, but was constantly told that no opportunities "fitted her". So with the help of her family she created her own business making the cookie recipes she loves. For once, even the most cynical can recognise that her claim to be "changing the world, one cookie at a time" is fully justified. Good luck to her.