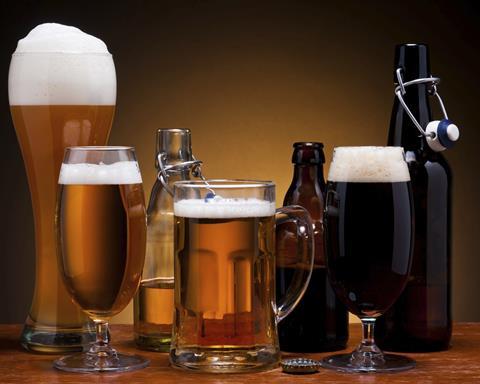 Off-trade beer sales were 6% lower in the second quarter of this year than the same period in 2014.
In stark contrast to Q2 last year – when the World Cup drove a 16.9% year-on-year boom – sales of beer through grocers and off-licenses fell 6.2% to 3.7 million barrels, according to the latest figures from the British Beer & Pub Association (BBPA) Quarterly Beer Barometer. In better news for retailers, this year's Q2 sales were 9.6% higher than those in 2013.
Pub and bar sales of beer were down 4.9% year on year in Q2 to 3.4 million barrels, with total beer across the on and off-trade down 5.6%.
The BBPA pointed out that, in addition to the impact of comparisons with the World Cup boom, sales had also been affected by Easter falling in early April in 2015. This meant some beer sales may have shifted into Q1 compared to 2014, when Easter was in late April.
And BBPA chief executive Brigid Simmonds said the figures showed more action was needed on beer duty.
"While we may see a bounce back in Q3, these latest figures give no room for complacency," she added. "The Chancellor has made a great start with his three 1p cuts, but with inflation very low, and an industry still experiencing the impact of the 42% duty rise under the previous Government's escalator policy there is no doubt more action is need to create a more sustainable future for Britain's national drink."
Looking at the BBPA's full-year sales figures, the decline was lower with off-trade sales down 1.9% over the 12 months to 13.6 million barrels and on trade down 2.9% to 13.3 million barrels. Total sales were down 2.4% on the previous 12 months.
World Cup beer sales were driven by deep discounting, with The Grocer revealing in June 2014 that eight of Britain's 10 biggest beer and cider brands were cheaper then than at the start of the 2010 World Cup. The steepest decline was on Foster's lager, which had dropped 16.5% from £1.88 a litre four years ago to £1.57, with Carlsberg and Carling also down by more than 10%.
UK Quarterly Beer Barometer
2nd Quarter 2015 (April to June)
Moving annual total beer sales ('000 barrels)
Total sales
Q1
Q2
Q3
Q4
Volume
% change
Volume
% change
Volume
% change
Volume
% change
2000
35,464
-0.6%
35,503
1.5%
35,052
-1.0%
34,572
-3.5%
2001
34,531
-2.6%
34,432
-3.0%
34,473
-1.7%
34,627
0.2%
2002
34,953
1.2%
35,287
2.5%
35,201
2.1%
35,141
1.5%
2003
35,052
0.0%
35,033
0.0%
35,483
0.0%
35,500
1.0%
2004
35,771
2.0%
35,969
2.7%
35,495
0.0%
35,641
0.4%
2005
35,413
-1.0%
35,015
-2.7%
35,215
-0.8%
34,902
-2.1%
2006
34,778
-1.8%
35,191
0.5%
34,596
-1.8%
34,448
-1.3%
2007
34,265
-1.5%
33,600
-4.5%
33,558
-3.0%
33,155
-3.8%
2008
33,144
-3.3%
32,790
-2.4%
32,213
-4.0%
31,482
-5.0%
2009
30,961
-6.6%
30,543
-6.9%
30,503
-5.3%
30,214
-4.0%
2010
29,927
-3.3%
30,225
-1.0%
29,514
-3.2%
29,150
-3.5%
2011
29,003
-3.1%
28,272
-6.5%
28,492
-3.5%
28,477
-2.3%
2012
28,412
-2.0%
27,984
-1.0%
27,548
-3.3%
27,031
-5.1%
2013
26,871
-5.4%
26,530
-5.2%
26,898
-2.4%
26,999
-0.1%
2014
26,892
0.1%
27,534
3.8%
27,262
1.4%
27,338
1.3%
2015
27,292
1.5%
26,874
-2.4%
On-trade sales
Q1
Q2
Q3
Q4
Volume
% change
Volume
% change
Volume
% change
Volume
% change
2000
24,281
-3.1%
24,018
-3.2%
23,671
-4.4%
23,358
-4.7%
2001
23,134
-4.7%
22,961
-4.4%
22,794
-3.7%
22,763
-2.5%
2002
22,811
-1.4%
22,725
-1.0%
22,552
-1.1%
22,333
-1.9%
2003
22,165
0.0%
22,013
0.0%
21,981
0.0%
21,890
-2.0%
2004
21,821
-1.5%
21,796
-1.0%
21,621
-1.6%
21,513
-1.7%
2005
21,381
-2.0%
21,064
-3.4%
20,935
-3.2%
20,729
-3.6%
2006
20,499
-4.1%
20,466
-2.8%
20,145
-3.8%
19,942
-3.8%
2007
19,770
-3.6%
19,423
-5.1%
19,166
-4.9%
18,737
-6.0%
2008
18,389
-7.0%
17,876
-8.0%
17,506
-8.7%
17,048
-9.0%
2009
16,818
-8.5%
16,634
-6.9%
16,451
-6.0%
16,256
-4.6%
2010
15,951
-5.2%
15,714
-5.5%
15,430
-6.2%
15,135
-6.9%
2011
15,075
-5.5%
14,980
-4.7%
14,894
-3.5%
14,925
-1.4%
2012
14,766
-2.1%
14,576
-2.7%
14,379
-3.5%
14,166
-5.1%
2013
13,997
-5.2%
13,773
-5.5%
13,737
-4.5%
13,690
-3.4%
2014
13,599
-2.8%
13,678
-0.7%
13,610
-0.9%
13,537
-1.1%
2015
13,460
-1.0%
13,283
-2.9%
Off-trade sales
Q1
Q2
Q3
Q4
Volume
% change
Volume
% change
Volume
% change
Volume
% change
2000
11,183
5.3%
11,484
12.9%
11,381
6.9%
11,215
-0.9%
2001
11,397
1.9%
11,471
-0.1%
11,679
2.6%
11,864
5.8%
2002
12,143
6.5%
12,562
9.5%
12,649
8.3%
12,808
8.0%
2003
12,888
0.0%
13,020
0.0%
13,502
0.0%
13,610
6.3%
2004
13,949
8.2%
14,174
8.9%
13,874
2.8%
14,128
3.8%
2005
14,032
0.6%
13,951
-1.6%
14,279
2.9%
14,173
0.3%
2006
14,278
1.8%
14,725
5.6%
14,451
1.2%
14,506
2.4%
2007
14,496
1.5%
14,177
-3.7%
14,391
-0.4%
14,418
-0.6%
2008
14,755
1.8%
14,915
5.2%
14,707
2.2%
14,434
0.1%
2009
14,143
-4.2%
13,909
-6.7%
14,052
-4.5%
13,958
-3.3%
2010
13,976
-1.2%
14,512
4.3%
14,084
0.2%
14,015
0.4%
2011
13,928
-0.3%
13,293
-8.4%
13,598
-3.5%
13,552
-3.3%
2012
13,646
-2.0%
13,409
0.9%
13,169
-3.2%
12,866
-5.1%
2013
12,875
-5.7%
12,757
-4.9%
13,161
-0.1%
13,308
3.4%
2014
13,293
3.2%
13,857
8.6%
13,652
3.7%
13,801
3.7%
2015
13,832
4.1%
13,591
-1.9%