It's been a cracking year for bagged snacks NPD; drumming up much-needed sales for a category that has been relatively flat in recent years. Those that have been innovative have reaped the rewards. We've run the numbers, with the help of IRI, to find out which new launches have been most successful.
1. Pringles Tortilla
Launched: April 2015 Sales: £16.5m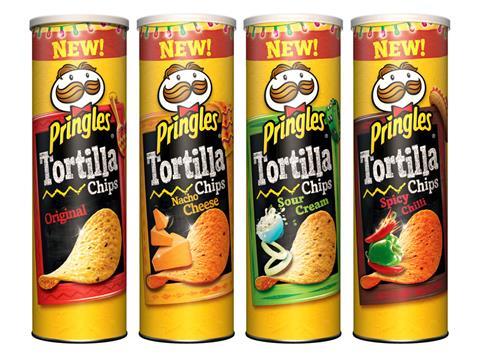 Ay caramba! Back when it was launched, Kellogg's claimed Pringles Tortillas was going to drive 'explosive' growth in the tortilla category. Nine months later it's achieved just that, having been named the category's number one launch of 2015. "Pringles Tortilla has not only proved hugely incremental to Pringles, but also to the category as a whole," says Alison O'Brien, Kellogg's commercial strategy director. "Some 40% of volume has come from shoppers adding it to their crisps repertoire."
2. Walkers MixUps Snacks Mix
Launched: February 2015 Sales: £16m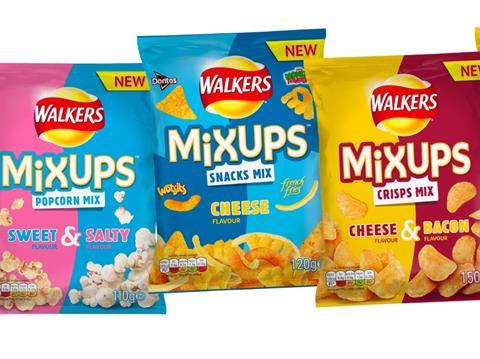 Like bands who release greatest hits CDs, Walkers found success by taking its bestsellers and putting them all in one place. MixUps Snacks Mix – a delightful medley of Doritos, Monster Munch, Wotsits and French Fries – offers consumers a selection of different flavours and textures in one bag. It's proven so successful that owner PepsiCo has just announced a new meaty variant. "Walkers MixUps have taken the nation by storm," says Thomas Barkholt, UK marketing director at PepsiCo. "In the first 11 months it drove 14.4% penetration. The success of Walkers MixUps has highlighted that consumers like to 'mix it up' and that 'mixing' offers a huge opportunity."
3. Hula Hoops Puft
Launched: January 2015 Sales: £9.5m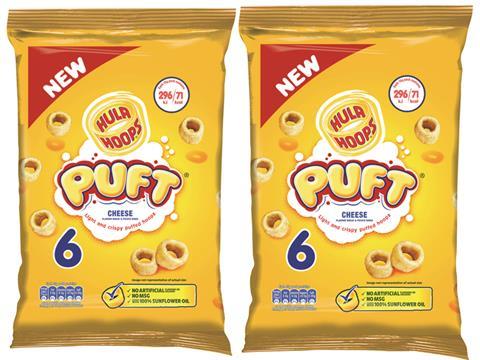 Healthier snacks are stealing sales from traditional crisps so it makes sense that the bagged snacks titans are fighting back. Offering a healthier alternative to Hula Hoops, KP Snacks launched Hula Hoops Puft – a lighter, puffy variant designed to 'bring to life the fun element of the brand'. They contain 74 calories per bag, 101 less than a standard bag of original Hula Hoops. Not only have they added £9.5m to Hula Hoops' sales over the past year, but they've helped it achieve impressive value growth of 8% on volumes up 2.5%.
4. Doritos Roulette
Launched: April 2015 Sales: £5.7m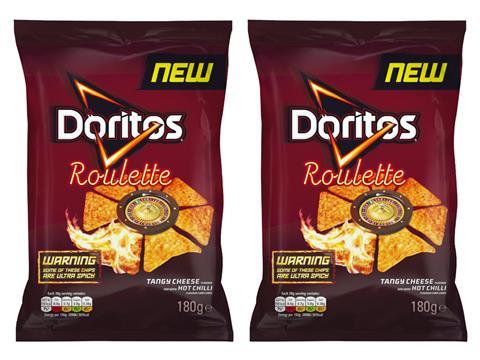 Can you handle the heat? Plenty of Brits thought they were up to the challenge, splashing out £5.7m on what PepsiCo claims was Doritos' hottest flavour ever with the liquid used on them '10 times hotter than a jalapeno'. The seriously spicy chips became the category's bestselling single SKU launch of 2015. A multimedia push that played on the variant's gambling theme also drummed up support. "The key drivers behind its performance is that it offers consumers a fun 'big night in' with a spicy twist and the product brings something new to snacking – creating an entertaining experience which can be shared and enjoyed amongst friends and family," adds Barkholt.
5. Jacobs Cracker Crisps
Launched: May 2015 Sales: £5.3m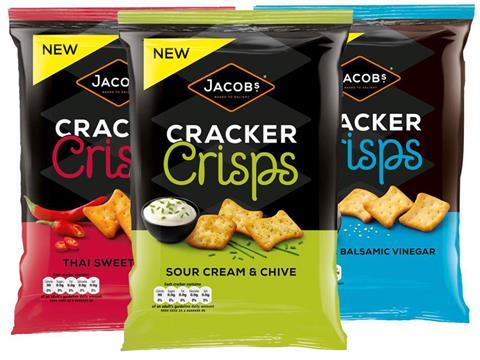 Savoury biscuits are the snack of the moment, stealing sales from traditional fried crisps as consumers search for healthier alternatives. One of the first on the scene was Jacobs Cracker Crisps in Thai Sweet Chilli, Sour Cream & Chive and Salt & Balsamic Vinegar. "Without a shadow of a doubt, Jacobs Cracker Crisps has been our defining launch of 2015," says Ted Linehan, director of savoury brands at United Biscuits. "It taps into the rapidly expanding area of 'snackable crackers' in the bagged snacks market. It's early days for the range but we're extremely confident it will be a strong player in this space, and 2016 will be an exciting year for this product."
In association with: