Empowered by technology, shoppers are now more curious and demanding than ever - and sweeping away old certainties.

For instance, marketers used to decide whether their products were high or low consideration, but now the consumer dictates this. Searches for 'best' products are growing significantly quicker for 'low-consideration' products. For example, searches for 'best toothbrush' are growing well in excess of 100% year on year
Consumers fell in love with search because it met their demands for very specific questions they couldn't find information for elsewhere - and we're starting to see this with how people search in grocery.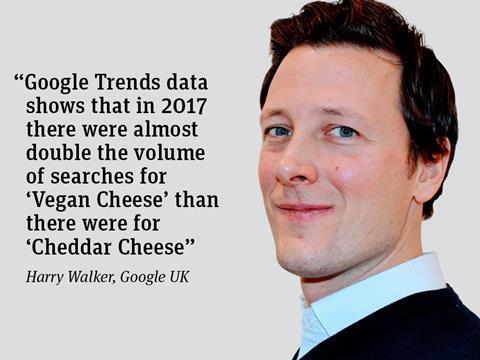 Right now, there's plenty of consumer interest in exclusion and plant-based diets. For many retailers and brands 'Veganuary' this year may have been the first realisation that interest in these products has spread beyond a niche audience.

However, interest in vegan foods has been building for some time. The number of vegans in Great Britain has risen over the past 10 years to more than half a million [Ipsos Mori] and popular culture is both reflecting and fuelling the interest.

The appetite is coming in mainly from millennials and Gen Z. As Google strategist Jascha Gross puts it: "Younger audiences are more educated about the food-health connection than ever before. They are turning food into 'food care' - a way to care for their minds, bodies, beauty and mood."

Google Trends data (below) shows that in 2017 there were almost double the volume of searches for 'vegan cheese' than there were for 'cheddar cheese', an inflection point that seemed to happen in February 2016. Since then, interest has accelerated further. Consumers are translating this interest into very specific product searches. And some of the most searched foods are those with perceived health benefits: matcha tea, almond milk, coconut oil and Himalayan salt.

Another indicator of the demand for vegan products is how searches combining the term 'vegan' with a supermarket for Jan/Feb are significantly higher than last year. Aldi and Tesco are leading the pack among omnichannel retailers with 160% and 150% growth respectively.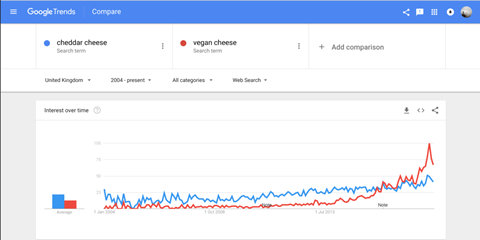 Consumers are demanding more information about specific/niche products and categories online when they're not sure they can pop into stores to pick them up. Increasingly, grocery shoppers are starting their online journey with a product in mind and building a basket around it. Arguably, successful online retailers will be the ones that can meet these demands and feature products consumers can't find anywhere else.

Harry Walker is industry head, grocery retail, at Google