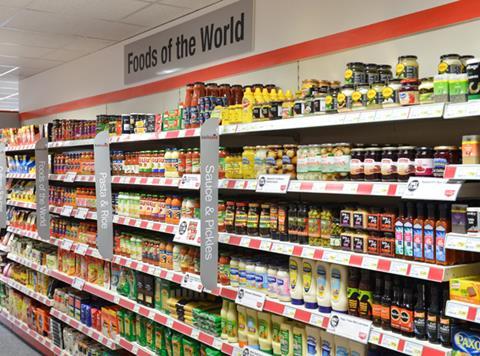 The world foods aisle could be undershooting its potential because almost a third of supermarket shoppers find it confusing, according to data from IGD.

Research found that seven out of 10 people who bought from the world foods aisle enjoyed the experience, making it the most popular section of the supermarket to browse - ahead of wine (56%) and fresh fruit (53%) - but 29% found it a confusing section to shop, and, as a result, 15% sometimes planned to buy an item when entering the store but didn't follow through.

With Italian at number one (34%), the online survey of 1,124 British supermarket shoppers discovered that Chinese was a close second (32%) in the run-down of most popular world food types, while Indian came in third (28%).

Whatever the country of origin, world foods were overwhelmingly skewed towards young adults, with 61% people in the category aged 18 to 34, compared with just 31% for savoury ambient foods overall - a grouping that includes canned, table sauces, cooking sauces, pasta, rice and pulses.

And 59% of all consumers said they would be interested in seeing an expanded choice of products in the world foods aisle - though 35% preferred to see a smaller selection.

"While shoppers' enjoyment for world foods does translate into clear opportunities for retailers and suppliers, the aisle does seem to leave many shoppers feeling confused, and this could be dampening growth in the category," said IGD chief executive Joanne Denney-Finch.

"Many of the brands can be unfamiliar, and the aisles can often be laid out in a way that means shoppers find it hard to identify different cuisines. Retailers and suppliers need to ensure the aisle is well signposted and laid out in-store."

The behaviour of world food shoppers also created opportunities outside the store, said Denney-Finch.

"They are also more likely to buy products online than buyers in other savoury ambient categories, so that is also an area to showcase these products. As shoppers are willing to spend time browsing this category, it should be as seamless and enjoyable an experience for them as possible. This might also involve such tactics as meal solutions, recipe ideas and in-store theatre."

The ethnic ingredients category was worth £296m in the year to August - a rise of 5.8% [Kantar 52 w/e 16 August 2015].