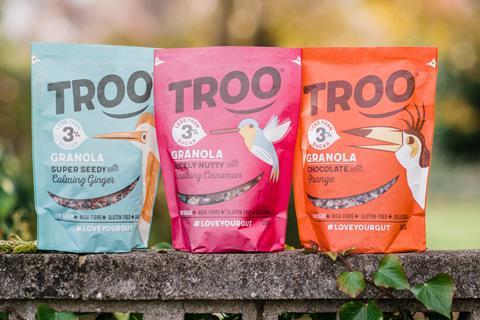 Gut health startup Troo is set to launch a range of high-fibre products in collaboration with Holland & Barrett.
Five co-branded SKUs are set to roll out in July – marking the first time Holland & Barrett has partnered in such a way with a food brand. One portion of each product will provide at least 25% of the daily fibre recommended by the NHS.
The products, which will comprise repackaged versions of Troo's Granola and A Spoonful of Fibre inulin syrup, were aimed at encouraging people to eat at least 30g of fibre every day. Currently, the average intake was just 18g, said Helenor Rogers, who founded Troo with her husband Mike Rogers.
Having approached Holland & Barrett, the couple found it was "really interested in working with new brands" she added. "They want to be at the cutting edge of all new trends."
The retailer would give Troo "massive access to customers who are really interested in their health".
The brand is also set to roll six standard SKUS into Sainsbury's via its Future Brands initiative that supports grocery startups. Three variants of granola will be joined by three new porridges (rsp: 2.99/400g) aimed at benefiting the gut-brain axis.
The aim was "to make porridge more interesting and also play on the link between gut health and mental health" Rogers said. Packed in a recycled paper bag, the trio's "mood enhancing" ingredients would include the likes of maca root, flaxseed and camomile.
Future Brands was "a fantastic thing to be part of" she added. The initiative's team understood "the dilemmas you face as a small brand".