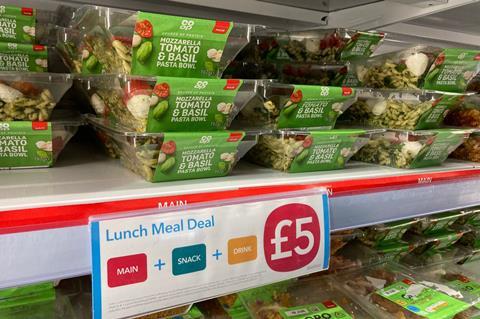 The UK grocery food-to-go market is predicted to be worth £23.4bn by 2027 as inflation is set to drive major growth.
The food-to-go channel within grocery will be worth £18.9bn by the end of this year, which is 3% more than its pre-pandemic value in 2019.
However, the sector's worth is estimated to rise considerably by 26% (compared to 2019 pre-pandemic levels) in the next five years as food prices keep increasing, according to IGD.
The consumer goods insight group said that, during Covid, retailers deprioritised food-to-go space to focus on in-demand categories.
But as high street footfall stabilises, retail could "more than regain the share lost to foodservice operators during the pandemic", senior analyst for food-to-go Nicola Knight said.
Knight added that if grocers can "get their price, offer and format right", they could claim 23.7% of the food-to-go market by 2027 – compared to 22.9% in 2019 and 20% in 2020/21.
"Key opportunities for retailers over the next 18 months will include strengthening their meal deal offers as consumers become more value-led, and utilising customer data to create tailored offers that are relevant and savings-focused.
"There's also an opportunity for them to increase food-to-go ranges to meet consumer needs across a wider variety of meal occasions."
IGD's data shows that foodservice was the main beneficiary of pent up demand for food-on-the-go last year because of its efforts around flexible delivery solutions and click and collect offers.
However, as living costs rise, it will become "more of a premium option" when compared with lower-priced food-to-go alternatives from supermarkets.
The rise in inflationary pressures will be the main driver of growth for the channel over the next 18 months, the forecasts noted, while volume is predicted to stay the same throughout the rest of the year and in 2023.
"The next 18 months will be a challenging period for the sector, mainly for coffee and food-to-go specialists, as operators attempt to balance rising costs with helping consumers to save money," Knight said, adding retailers were in a "strong position" to offer better value to customers.