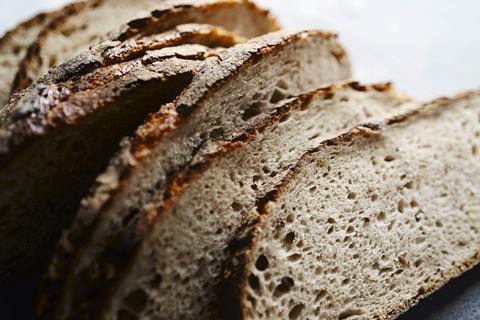 UK shoppers' appetite for bread is on the rise, according to Waitrose, which has reported a resurgence in sales for the category.
Searches for sourdough on Waitrose.com increased by 65% in January compared with a year ago. And sales of the bread have grown more than 30% over the past three years, the supermarket said.
Within the category, demand for speciality loaves, such as those made with linseed, mixed grains and seeds, is also up at the retailer, with sales growth of 22% over the past three months.
Waitrose added that online searches for white loaves were up 20% year on year, and 450% for unsliced loaves, with the classic sliced loaf up 14% in customer searches.
"Our customers are rediscovering the beauty of bread, but are looking for great-quality, traditional and speciality loaves in particular," said Zoe Simons, Waitrose senior innovation chef.
"Burnt bread is certainly something we're seeing a trend for, going hand in hand with the increase in popularity for sourdough.
"Our Waitrose & Partners No.1 sourdough loaves have a deep golden colour thanks to their longer baked, caramelised crusts, in a nod to the trend for bitter flavours. Our sourdough loaves are handcrafted and use a traditional sourdough starter – a live fermented mixture – and the recipe is simply wheat flour, water, rye flour, salt, wholemeal wheat flour and nothing else."
Bread has lost favour with UK shoppers in recent years, particularly branded, packaged loaves. The Grocer's Top Product Survey 2019 reported in December that bread brands lost £60.4m in sales last year, with volumes slumping by more than 82 million loaves. However, own-label bread was in growth, as was bread with added bits, such as seeds. The report also said there was higher shopper demand for better-quality bread.
Waitrose focused on its No.1 sourdough loaf in its new TV marketing campaign, launched earlier this month. The four films in the 'You Can Taste When It's Waitrose & Partners' ads highlight the "quality" ingredients and "superior" taste of its products.
One advert features its hand-rolled white sourdough bread made exclusively for the supermarket in North London by Celtic Bakers.