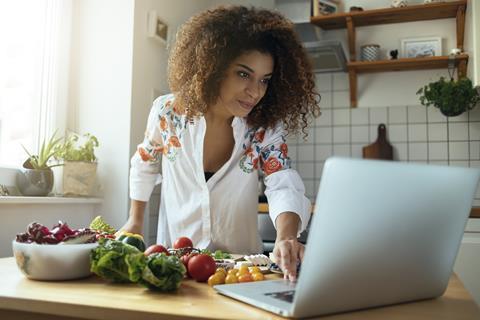 Social media is increasingly influencing what UK consumers look for when shopping on the high street, with influencers having a real impact on what actually gets sold in bricks-and-mortar stores.
Consumers that shop in stores are no longer swayed towards making purchases because a brand tells them to buy a given product – they are buying into lifestyles they see online.
When Mrs Hinch, a cleaning influencer with 2.3 million followers on Instagram, recommended Zoflora as part of her 'hinching' cleaning routine, sales rose so sharply that Zoflora had to double production to keep up with demand.
That's just the start. Recent research we commissioned found that 56% of shoppers wish they cooked what they saw on Instagram more often, and six million British home cooks manage their weekly shop based on the recipes they want to try, rather than buying the same ingredients every week.
What's more, 13.3 million Brits say that temporary diet changes will influence their food purchase patterns more than ever in 2019, while 13% of home cooks say social media has revolutionised how they cook daily and made them more adventurous chefs. And 10% of shoppers now say social media is more of an inspiration to their home cooking than TV and magazines.
So how do retailers make the most of the new opportunities created by social media?
We know from our research that convenience remains a key factor for shoppers, with 53% citing it as the most important factor when shopping in physical stores.
If stores can make it easier for consumers to find the latest ingredients promoted by their favourite foodie influencer, they can bridge the gap between online and offline experience – and even steal a march on online rivals in the process.
This could take several forms. For example, retailers could display the latest viral recipe videos on aisle ends, alongside the ingredients they need to recreate that recipe.
Brands are also beginning to feel more comfortable partnering with influencers. Joe Wicks' partnership with Uncle Ben's was a landmark moment for social media influencers, and these partnerships will increase in number and scale in the near future. Finding compelling ways to bring these partnerships to life in store will ensure shoppers continue to have a real reason to shop in physical stores rather than online.
A key factor in all this is agility and the ability to respond to new trends quickly. To maximise sales from social media, retailers will increasingly need to have dedicated teams that spot emerging influencers like Mrs Hinch and adjust ranges accordingly.
Instead of generic offers and promotions, there's an opportunity for retailers to curate special deals around, say, the latest viral food trend, perhaps even offering an exclusive supermarket branded tutorial to help consumers bring the ingredients to life in their own kitchens.
By closely monitoring social media trends and quickly adapting store layouts to highlight on-trend products and ingredients, bricks-and-mortar retailers can take advantage of shoppers' growing desire for convenience and social media-based inspiration.