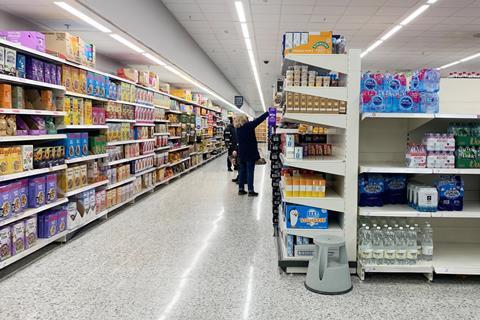 As we turn the page on a new calendar year, you might think this is just another familiar prediction piece for the fmcg industry. But this year, it's more important than ever to drill deeper than these top-level forecasts. As ever more change looms, the common factor – no matter which part of the industry you work in – is that you will need to look beyond the headline.
On the face of it, the outlook for 2022 is challenging. We are seeing record levels of price increases hitting the shelves in January, meaning inflation could reach 5% to 8% by the end of the quarter. Meanwhile, companies continue to face supply chain issues and labour shortages on a wave of Omicron.
But as is so often the case, headlines like these hide what is actually happening beneath the surface. If we take inflation as an example, IRI analysis shows the extent to which inflationary increases are being suppressed by shoppers making choices to manage their budgets. Something that would be impossible to infer from a headline-grabbing stat.
On top of the known changes from 2021, the year ahead will deliver significant legislative challenges, with HFSS at the forefront. If we take chocolate as an example, in the 12 weeks until 25 December 2021, sales were largely unchanged compared with the previous Christmas. However, look more closely, and we see that 28% of those sales were on promotions sold from off-shelf displays, which won't be allowed once the new restrictions come into force in October. The idea that we can use the previous season to plan for the coming one is fundamentally flawed. Again, we need to look beneath the surface to see not only the true impact of these changes on categories, shoppers, brands and retailers, but to navigate a successful path through.
We can no longer rely on socioeconomic data to predict shopping habits. There is so much variation at play among consumer behaviours – the industry they work in, their geography, their attitude to living with Covid and so on – that we can no longer look to the past to predict the future.
The Christmas break seems a long time ago, and an important question for us all is, having spent almost two years working remotely during challenging circumstances, do our teams have the energy required to 'go again'?
As we enter our eighth Covid-affected quarter, another year of industry challenges will undoubtedly seem daunting for many. In the technology and analytics industry, we are driving the evolution towards automated tools and AI. Innovative solutions can liberate time and energy that can be invested back into the business and people.
Embracing opportunities like this to accelerate change remains a huge opportunity across our industry. Think about how technology has transformed our home lives and then compare that with most workplaces and business processes, which remain firmly planted in another decade.
I believe there will be a genuine need to work much smarter in 2022, and self-serve, prescriptive, automated technology could be a solution for those businesses looking for ways to ease the strain on their teams.
One of the best parts of my job is that I get to see this significant change play out in near real time across the UK. Observing how the impact of the macro changes are shaping the shopping behaviour across the 40 million-plus loyalty cards we manage at IRI each week, it's clear that the pace of change is increasing.
Change creates opportunities for all of us, and I believe those with the capability to look beneath the headlines to uncover nuance and join the dots to find new meaning will be the ones to back.
Taking advantage of this change will require us to drill down harder and sweat the details in order to stay really close to shoppers over the next 12 months, but I, for one, am very much looking forward to the journey.