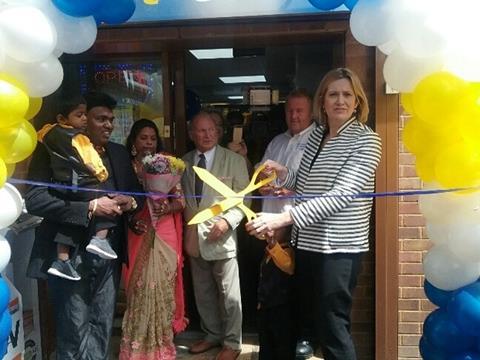 Home secretary Amber Rudd opened a new Best-one store in Broad Oak, Rye last week.
The local MP for Hastings and Rye opened the store following a renovation costing £135,000. This converted it from a CTN-based operation to a modern convenience store double its original size.
Store owner Rupa Samasivan has been trading within the community for over 13 years. "The team at Best-one and my BDE Paul Farrell have helped me transform what was basically a shell into a fantastic local community store," he said.
"Their advice on categories such as chilled and alcohol has helped me fit out my store in a way that makes it easier to shop for customers and ensures shoppers pick up additional purchases as they make their way through the store."
Head of brand at Bestway Wholesale Paul Adams added: "Best-one at Broad Oak is a fantastic example of what can be achieved when you have an owner and store team working in tandem to redevelop an ageing and traditional CTN. Following our community convenience blueprint, the store now excels in chilled foods, top-up groceries and alcohol, and we will continue to work with him on our joint business plan over the coming months to ensure that we maximise sales and margin for Rupa."
This latest opening follows the appointment of Tony Holmes as sales director and the restructuring of the commercial team last month. Holmes has made bold growth targets for Bestway Wholesale's symbol, catering and pet divisions.