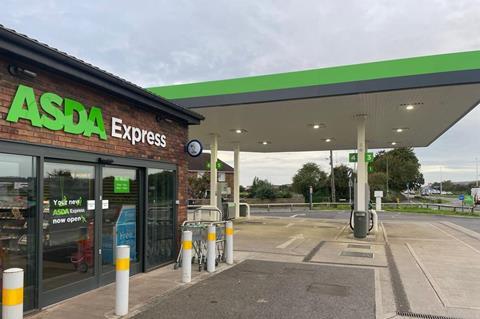 Asda has completed the acquisition of EG Group's UK operations for an enterprise value of £2.07bn, accelerating its growth into convenience and foodservice.
It will see Asda Express rolled out across EG Group's 356 petrol stations, while 462 Greggs, Burger King and Subway outlets are transferred to the supermarket giant as franchise agreements. Asda also now wholly owns Leon, which it will also look to introduce to its stores.
The transaction builds on Asda's acquisition of 119 forecourt stores from the Co-op, which it started to convert to the Asda Express fascia earlier this month, as well as its existing three standalone Asda Express convenience stores, which it began opening in October 2022.
It means Asda now owns 478 convenience stores, as it paves the way to opening a further 300 by the end of 2026, in addition to its existing estate of 580 supermarkets, 31 Asda Living stores, and 321 petrol filling stations, creating an expected combined revenue of nearly £28bn.
Meanwhile, EG Group will continue to operate 32 sites in the UK. Under the terms of the transaction, the company will also retain certain foodservice brands including Cooplands, its wholly owned bakery business, as well as franchise businesses with Starbucks, KFC, Sbarro, Chaiiwala and Cinnabon.
"This is a great day for Asda and for millions of UK consumers," said Asda co-owner Mohsin Issa. "Asda is a much-loved brand that is instantly recognised for great value. I could not be more proud or excited that the iconic Asda sign is now coming to hundreds more communities.
"We have worked at pace over the last 12 months to deliver a compelling convenience proposition from a standing start – as well as investing more than £120m in lowering the price and further improving the quality of our food. With the deal complete, we can focus on delivering the growth opportunities.
"That means lowering the price of fuel for more motorists, bringing Asda's great value and quality to more communities, offering greater opportunities to our supplier partners and creating sustainable job opportunities for colleagues in our stores and depots. I'd like to thank the teams at Asda for their efforts to bring this transaction to completion and welcome our new colleagues from EG UK who have joined the Asda family."
Asda chair Stuart Rose said: "As families continue to face into cost of living challenges, bringing Asda's long-standing value in groceries and fuel to even more communities is a win for UK consumers. Asda has shown through its actions over the last 18 months that it is firmly on the side of consumers – whether that's through its Just Essentials range, Kids Eat for £1 or Asda Rewards – which has put over £200m back in the pockets of shoppers through their Cashpot.
"This commitment is backed up by the fact it has held the title of the lowest-priced traditional supermarket for 26 years in a row. The combination of Asda and EG UK will only create more opportunities for Asda to bring that focus on value to even more communities – as well as driving the sustainable growth of the business through a convenience offer of genuine scale and substance."