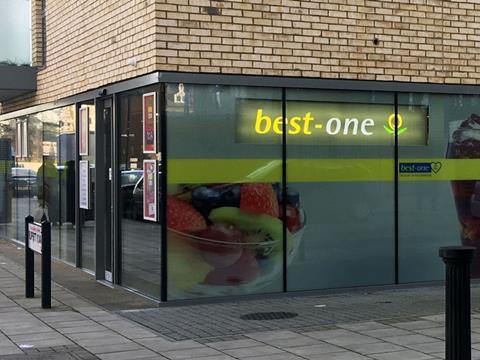 Symbol group Best-one is kicking off its largest ever football promotion to help retailers score maximum World Cup-related sales.

Official Fifa World Cup partners Budweiser and Coca-Cola are partnering with Best-one to offer retailers and consumers an array of prizes throughout the tournament.

Nine pairs of tickets to attend the 'Ultimate Fifa World Cup Viewing Experience' with a 'Bud Boat' cruise down the Thames are up for grabs for retailers who create the best Budweiser in-store display.

Customers also have the chance to win mini Coca-Cola branded footballs through purchasing any two 1.5-litre Coke bottles which have instant scratchcards.

"Sporting occasions always offer retailers a fantastic opportunity to increase sales and basket spend and they don't come much bigger than the Fifa World Cup," said said Bestway Wholesale head of brand Paul Adams.

"We have worked with suppliers so that Best-ones will be able to offer shoppers great deals in licensed including 12-bottle packs of Budweiser, Stella, Beck's and Amstel for only £9, a 10-pack of Kopparberg for £10, a bogof on large Pringles tubs and Walkers six-packs for only £1.

"But it's not all about beer and snacks. Many fans will be having barbecues and informal get-togethers, particularly as kick-off times are in the afternoons and evenings, so there is also a wide range of offers on fresh meat - including burgers chicken and pizzas - bakery and condiments."

Adams also provided retailers advice on how to step up their game ahead of the tournament.

"Stores are going to be busiest two hours prior to kick off so ensure you have everything in order - beer and wine in the chillers, snacks and soft drinks well stocked and use PoS to disrupt shoppers. Also make sure you advertise the offers in store via window bills or shopper leaflets. There will be a lot of promotions in the multiples so make sure you tell shoppers you are offering competitive deals.

"The last tournament saw beer and cider sales increase by 12%; over £14m worth of soft drinks were sold in the first week of the 2014 tournament and bagged snacks and nuts was the third largest growth category - so getting these categories right will be key to a successful sales period."

Both competitions are supported by a range of PoS materials including posters, shelf barkers and branded free-standing displays designed to boost customer engagement.