Address: Rupert Rd, London NW6 5DL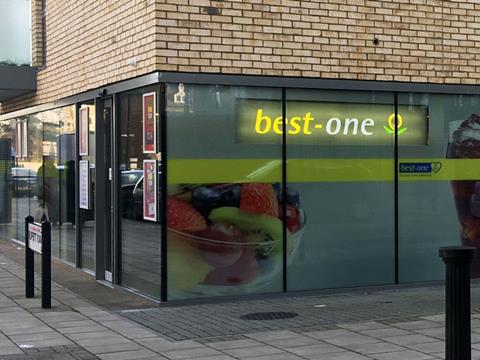 Set among modern apartment blocks near London's Queen's Park, this brand-new Best-one has a fresh, glass-front fascia to match its smart surroundings. Opening just a few week ago, and sporting the new Store of the Future format, inside is bright and airy with dark wood shelving, which sets it apart from the symbol's newsagent past.
The symbol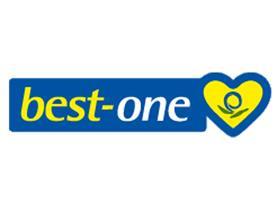 Bestway claims its Best-one fascia "outperforms the sector, with 19% growth in volume over the past year."
It has introduced "seven different formats under the Best-one fascia, including Large Convenience, Community Top-up, Forecourts and Value, each focusing on shopper missions.
Analysing the store's shopper demographics and expertise, a unique blueprint is drawn up, which includes areas such as promotional activity, ranging and merchandising, optimum shop flow, and signature categories for each individual store.
Areas that are considered to develop include fresh & chilled, which should account for a minimum of 20% of space, signposting and effective merchandising of hero categories, food-to-go, and a shop flow with food to go, impulse, core grocery and take-home sections clearly defined.
Being part of a group provides retailers with "greater category insight and support, better prices and promotions and a trusted, recognisable brand," it adds.
Food-to-go options line the entrance including a Cuisine de France pastry station, a heated unit for fresh filled rolls, self-serve coffee and a Rollover hotdog machine. Unfortunately, despite arriving at lunchtime, every single machine was out of action, leaving just a few stale pastries on the shelf.
I'm assured by friendly staff it's a temporary hitch to be resolved shortly.
Past the food-to-go stations, there is an abundance of snacks, confectionery and soft drinks. Fresh produce and chilled lines are present but still relatively light compared with most modern c-stores, which makes it seem better suited to late-night booze and snack runs than a full midweek top-up shop. Despite an enormous wall of alcohol chillers, the Blossom Hill wine wasn't stocked and was changed for a Grizzly Bear Zinfandel rosé.
---
FOOD TO GO OFFER 1/5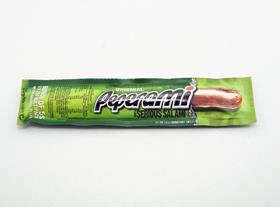 For a brand new shop format specifically aimed at targeting food-to-go and lunchtime shoppers, this was a major letdown. We were supposed to be spoiled for choice with warm meals, but with all hot food units down for maintenance and not a single sandwich, salad or pasta pot left in stock, we were forced to opt for a tragic-looking microwave chicken burger (£1), a can of Fanta Lemon (£1) and a Peperami (79p). Is it a forgivable misstep or a cardinal sin to have such a slip-up so shortly after opening?
Fascia Face-off Part 1: Putting fascias to the test
1

2

Currently reading

Best-one, West Kilburn

3

4

5

6

7

8

9

10

11

12